Janet Jackson exposure fine is dropped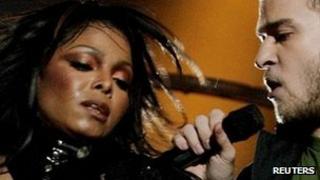 US TV network CBS should not be fined for broadcasting Janet Jackson's "wardrobe malfunction" in 2004, a federal appeals court has ruled.
CBS aired a glimpse of Jackson's breast during the Super Bowl half-time show.
The Federal Communications Commission (FCC) appealed to the US Supreme Court in 2008 to force the TV network to pay a $550,000 (£345,270) fine.
The FCC said it was disappointed by Wednesday's ruling. CBS said it was grateful for the decision.
The 3rd US Circuit Court of Appeals in Philadelphia said that in imposing the fine, the FCC "improperly imposed a penalty on CBS for violating a previously unannounced policy".
Referring to an earlier decision in 2008, the court claimed the FCC acted "arbitrarily and capriciously", departing from prior policy that exempted "fleeting" indecency from sanctions.
CBS spokeswoman Shannon Jacobs said the company hopes the FCC will "return to the policy of restrained indecency enforcement it followed for decades."
In a statement the FCC said the court had overturned the fine on "narrow procedural grounds". It said it planned to use "all the authority at its disposal" to ensure that broadcasters serve the public interest when they use the public airwaves.
Video delay
Singer Justin Timberlake pulled down part of Jackson's top during their half-time show performance of the landmark Super Bowl broadcast in 2004.
The incident generated a record number of complaints - more than 500,000. CBS was quick to apologise.
At the time, broadcasters did not employ a video delay for live events, a practice that changed within a week of the game.
The FCC imposed a fine of $27,500 (£17,257) for each of the 20 stations that CBS owned.
Timberlake blamed the exposure on a "wardrobe malfunction", while Jackson said it had been an accident, however - when handing out the fine - the FCC concluded "the breast-baring finale was intended".
It is unclear whether the FCC will appeal the ruling.