Robert Vaughn to star in Coronation Street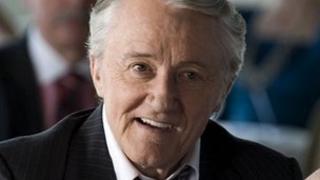 Hollywood actor Robert Vaughn has landed a role in Coronation Street, making him the first major US star to join the soap, a spokesman says.
The Oscar-nominated actor will play Milton, a wealthy American who meets Street regular Sylvia Goodwin (Stephanie Cole) on a cruise.
Vaughn, 78, is best known for playing Napoleon Solo in the spy series, The Man From U.N.C.L.E.
He has played con-man Albert Stroller in the BBC series Hustle since 2004.
"I am delighted to be welcoming The Man From U.N.C.L.E to Coronation Street," said producer Phil Collinson.
"Robert was a huge part of my childhood and a magnificent actor. I am looking forward to seeing the impact this exotic character has on the ladies of Weatherfield."
Vaughn is set to appear on screen as Milton early next year.
The actor was nominated for an Academy Award in 1960 for his role in The City Jungle.
Other film credits include the western classic The Magnificent Seven, Bullitt and The Towering Inferno.
British stars, meanwhile, who have made a name for themselves in Hollywood have walked the cobbles of Weatherfield.
Sir Ian McKellen and Stephanie Beacham are two such actors who have appeared on the long-running soap in recent years.