Why are the MTV awards in Belfast?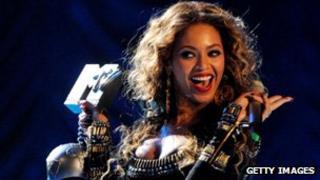 Fifteen years ago, most musicians avoided Belfast - now it's hosting the MTV European Music Awards. What's behind the change?
On Sunday, Lady Gaga, Jessie J and Justin Bieber are set to stroll down a red carpet in Northern Ireland, on their way in to MTV's European Music Awards.
The ceremony lands in a different city every year but, for Belfast, MTV's presence means something special.
"For many of us, the MTV awards are an indication that we really and truly have arrived," says Belfast's Lord Mayor, Niall O Donnghaile.
It has been a long time coming. The Beatles may have been regular visitors to Northern Ireland in the 1960s - playing at the Ritz Cinema and the King's Hall - but as soon as violence broke later that decade, Belfast vanished from band's touring schedules.
Up-and-coming acts may have appeared at the iconic Limelight bar (Oasis and Manic Street Preachers were among those who made the trek across the Irish sea) but music fans became used to catching a train to Dublin to see the stars - if the lines hadn't been taken out by a bomb.
"I hardly saw any gigs until I moved to Scotland," remembers Snow Patrol frontman Gary Lightbody, who was born in the Northern Irish seaside resort of Bangor.
"Nirvana I saw, and Red Hot Chili Peppers, but not that many gigs. There's almost no point talking about those times."
This Sunday, however, Lightbody and his band are playing a huge open-air show outside Belfast City Hall, with 15,000 people expected to attend.
One mile away, the MTV Awards will be in full swing at the Odyssey Arena, with Coldplay, Lady Gaga, Queen, Jessie J and Bruno Mars all taking to the stage.
It's the culmination of almost 15 years of development and investment in Northern Ireland's music scene and, admits the Lord Mayor: "It's a huge deal".
The tide began to turn before the signing of the Good Friday Peace agreement in April 1998. With an IRA ceasefire in place, bands were warily starting to cross the border after shows in Dublin.
'Stop the fighting'
U2 (no strangers to Belfast during the 1980s) planted a flag in the sand in August 1997, when they brought their extravagant Popmart tour to the Botanic Gardens, accompanied by 75 articulated trucks, 500 tonnes of equipment and a crew of 250.
Never one to shy away from a political statement, Bono defiantly played a song about the troubles, Please, asking the the crowd to "please stop the fighting".
During the performance, pictures of Northern Irish politicians Gerry Adams, David Trimble, Ian Paisley and John Hume flashed up on the band's 165ft-wide (50m) video screen, just metres away from the Ormeau Road - a violent flashpoint in Ulster's annual marching season.
Bono's impact on the peace process is up for debate - but U2 and their 40,000 fans had proved that Belfast was capable of hosting a major, world-class concert.
The following year, Sir Elton John staged a similar show in the grounds of Stormont Castle, where the Good Friday agreement had recently been finalised.
Although he had been invited to play by Tony Blair, Sir Elton was less inclined to talk about politics than to support Belfast's audiences, who he described as "the most responsive, anywhere".
"Elton wants to be an ambassador for Northern Ireland," said his tour manager Keith Bradley after the concert, "to tell every international artist that Belfast is a date they have to put in their tour calendar."
The message certainly seems to have been delivered.
Stars such as Britney Spears and Rihanna have recently launched the European legs of their tours in Belfast, and purpose-built venues have sprung up to replace the playing fields and leisure centres that used to host gigs.
"The whole new capital infrastructure in Belfast means we're on the list for every art form now," says Carolyn Mathers, a culture and tourism officer for Belfast City Council.
"It's not just music," she adds. "Kenneth Branagh opened his London show at The Lyric Theatre last month. In regard to fine arts, we have something like 52 galleries now. Even five years ago you could have counted how many we had on one hand."
Musical heritage
Like a glitzy, musical version of the Olympics, MTV considers bids from a number of cities before settling on a venue for its annual awards show.
"It's crucial that the city embraces the European Music Awards in the right way," says Matt Cook, Director of Talent MTV UK and Ireland.
"Belfast's a great city. It's got a great heritage of music. And they've put on a music week in the run-up to our show, which not only gets everyone ready, but also highlights the breadth and wealth of local talent."
That music week entails 170 shows in 48 venues across the city - from local heroes like Ash and The Divine Comedy, to up-and-coming acts like The Voodoos, Cashier No 9 and VerseChorusVerse.
It's a sign that, as well as attracting world-class acts to the city, Northern Ireland is increasingly confident about its home-grown talent.
"I've always felt that Manchester, London and Liverpool have had fantastic integral scenes. That is now happening in Belfast," says Ross Graham, who runs Fast Forward - a scheme that helps Northern Ireland's up-and-coming bands.
"We're producing the talent - and they're not necessarily shifting to London to develop. They're actually doing it here, and they're proud to be here. It's great. These are the good times."
Carolyn Mathers agrees: "The new generation, unlike my generation, are determined not to leave.
"All these unsigned bands are playing to 500 and 1,000-seater venues. They have a huge following. Belfast had never really got behind its artists before, but there's a recognition now that they're playing a vital role in revitalising the city."
O Donnghaile, who at 25 is Belfast's youngest ever mayor, is almost too young to remember the darkest days of the conflict. He admits that, for his generation, it is "taken for granted that the big acts will come" to Belfast.
For him, the presence of the MTV Awards and its global audience of 600 million TV viewers is not so much an honour as an opportunity.
"We have to capture that flame that MTV ignites," he says. "We have to show them the talent and the creativity that we have here in the city.
"After Belfast, MTV will never be the same."