Tintin 2: Horowitz says story 'still under discussion'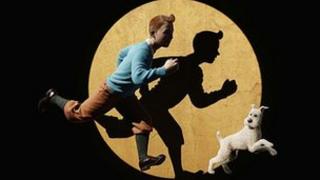 Writer Anthony Horowitz says there is still a question mark over which Tintin book will be adapted for the sequel to Steven Spielberg's chart-topping film.
Horowitz said earlier this year he had penned a script based partly on Herge's Tintin story Prisoners Of The Sun.
"That was true a few months ago," Horowitz told the BBC, "but I can tell you that I think the second film is not going to be Prisoners of the Sun".
"What it is going to be is still under discussion."
He added: "I've had meetings with the directors and producers and we've talked about ideas and action sequences.
"At the moment I'm trying to put together a story that will please everybody. It's a very difficult one to do."
The Adventures of Tintin: The Secret of the Unicorn is currently top of the UK and Ireland box office.
The motion-capture 3D blockbuster stars Jamie Bell as Herge's young roving reporter, alongside a largely British cast that also includes Daniel Craig, Simon Pegg and Andy Serkis.
The screenplay for the first film was written by Steven Moffat, Edgar Wright and Joe Cornish.
Peter Jackson, who produced the first film, is set to direct the Tintin sequel once he has finished work on The Hobbit.
Earlier reports had suggested that the second film would be based on both Prisoners Of The Sun and its predecessor The Seven Crystal Balls.
Horowitz, whose Sherlock Holmes novel The House of Silk was published this week, confirmed that he would be writing the second film but was yet to begin work on the script.
He said: "I am a huge Tintin fan I grew up on him and I'm looking to getting stuck in on this, but we're a little distant yet from actually having a script...
"The good news is if [Prisoners Of The Sun] is not the second film it'll be the third film so actually I could end up with two Tintins under my belt."
Horowitz's TV writing credits include Midsomer Murders, Poirot, Robin of Sherwood and Foyles War.
He is also the writer of the Alex Rider series of spy novels, and adapted the first - Stormbreaker - for the big screen in 2006.