Lord Of The Flies manuscript to go on display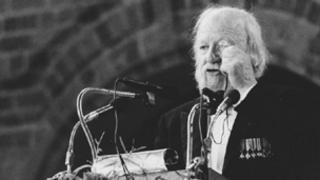 Members of the public will be able to see the original Lord Of The Flies manuscript for the first time.
The classic novel, by Nobel Prize-winning author William Golding, is being displayed at the Bodleian Library in Oxford to commemorate 100 years since the writer's birth.
The book, about a group of British boys trapped on a deserted island, was rejected by 10 publishers before Faber and Faber editor Charles Monteith read it.
"He [Charles] said right from the beginning the story really grabbed his attention," says Judy Carver, Golding's daughter.
She explains her father wrote the tale in 1952 and a year later began to send it off to publishers.
"We've got a record, in his own handwriting, of him sending it off to various publishers who all rejected it."
"Eventually, eight months later it went to Faber. Initially the first person who read it had recommended that it should not be taken on, but very luckily for us, a new-ish editor called Charles Monteith happened to pick it up and was gripped by it," she explains.
It was Ms Carver's idea to exhibit the manuscript, along with various other articles from the family archive.
'Complicated process'
"From an emotional point of view the manuscript is extremely valuable," she says.
"It's very interesting in terms of my father's developments as a writer, because you can see Lord of the Flies as it first sprang from his mind.
"You can compare the manuscript with the printed version and I'm glad to say both are almost exactly the same. He did make some additions, but I don't think that the publishers made any."
Some passages were pruned, but the remaining manuscript remained Golding's original work.
Initially the book was not well received, but by the early 1960s it had become a best-seller and went on to become part of the required reading syllabus in most UK schools.
Similarly, the 1963 film adaptation, directed by Peter Brook, became a cult classic.
Visitors to the Lord Of The Flies And Beyond exhibition will also be able to look at first editions of some of his other novels, his Nobel Prize medal and various pictures of him at different stages of his life.
"I hope it will entertain people and I hope it will remind them that there's a complicated process behind every book," Ms Carver says, when asked what the aims of the exhibit were.
"I hope also - and I don't know if this will happen - that it will awaken interest in my father's other books. I'd be really delighted, if as a result, people went away from the exhibition and said they wanted to read one of his books."
Golding went on to publish another 11 novels, as well as a play, two books of essays and a journal of his travels in Egypt.
He was awarded the Booker Prize in 1980 for his novel Rites of Passage, the first book of the trilogy To the Ends of the Earth.
But Ms Carver prefers the slightly lesser known books written by her father.
"For a long time my favourite was The Spire, which is his novel about building the spire at Salisbury Cathedral. That's partly because the place was very familiar to me, but also because it was dedicated to me," she says.
"But now I think I rather prefer a novel called Free Fall, partly because it's a bit of an underdog and people tend to not have read it.
"I think it's very unsung. Perhaps in its day it was a bit too revolutionary - I think now its time may have come."
In 2008, Golding was ranked third on a Times newspaper list of top 50 greatest writers since 1945.
For his daughter, who went on to become a writer, it was hard following in his wake.
"I didn't bother," she says. "I've had to find a different territory which he didn't colonise."
"To a certain extent, we were very lucky to have him, so I shouldn't whinge too much about how awful it was to have a famous writer as a father."
And despite his penchant for bleak storylines and dark characterisation, Ms Carver remembers her father having a fantastic sense of humour.
"He was very tremendous to live with - he was a wonderful man and a great storyteller," she recalls.
"But he was also very intense. He used to take us sailing in situations, which I now realise, were actually quite dangerous - so I was right to be scared.
"My mother used to say about him: 'Only Bill could get us out of things that only Bill could get us into'."
The William Golding exhibition opens at the Bodleian Library on 5 November