Degas and Picasso fail to sell at US auction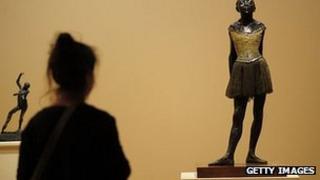 Works of art by Degas and Picasso have failed to sell at an auction at Christie's in New York.
The impressionist and modern art sale included a Degas sculpture of a teenage dancer. It was expected to sell for up to $35m (£25.4m) but the bids stopped at $18.5m (£13.4m).
Less than two-thirds of the 82 works on offer found buyers.
Conor Jordan, Christie's head of impressionist and modern art, said the market was "at its most selective".
Degas sculpture La Petite Danseuse de Quatorze Ans, known as the Little Dancer, took the French Impressionist three years to finish.
It was the only sculpture he ever exhibited in his lifetime.
"We went into the sale anticipating that there would be some action on it," said Mr Jordan.
"But for whatever reason, on the night, no-one lifted their paddle and she passed unsold."
A pair of Picasso portraits which were expected to sell for $12m and $18m (£8.7m and £13m) and two Giacomettis in the $10m (£7.2m) range also failed to reach expectations.
In 2010, Giacometti's life-sized bronze sculpture of a man became the most expensive sculpture ever sold at auction when it was bought for £65m at Sotheby's in London.
However, the Christie's auction did conjure up a record sale for German Dadaist artist Max Ernst.
His 1941 work The Stolen Mirror sold for $16.3m (£11.8m) including commission, more than three times the estimate. His previous top sale had been $2.67m (£1.9m).