Will BBC cuts harm local radio?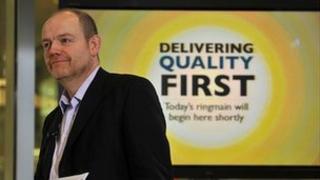 This round-up of Wednesday's main media stories reports on the debate over proposed cuts at BBC local radio stations.
Budget cuts to BBC local radio stations will harm programme quality, staff have warned the director general, reports BBC News.
Radio Merseyside presenter Roger Phillips challenged Mark Thompson at the Radio Festival in Salford. He said reducing the BBC budget by 20% over five years would mean the station losing 15 of its 46 staff, with the effect that "we can't provide quality at all". Mr Thompson said local radio had not been singled out unfairly and he would look for ways of making savings that "minimise the impact on quality".
Radio Academy Chief Executive John Myers has been commissioned by the BBC to produce a report on how the corporation's local radio stations can best adapt to DQF budget cuts. A spokeswoman for BBC English Regions told Radio Today: "We have asked John Myers to advise us on how we can maximise productivity and deliver efficiency savings across local radio."
Ashley Tabor, founder of the UK's biggest commercial radio company, Global Radio, has claimed the BBC is dragging its feet on digital radio and questioned the need for switchover, reports the Guardian. At the Radio Festival, he said digital audio broadcasting (DAB) coverage fell well short of that provided by FM, which accounted for the lion's share of listening and commercial radio profits. BBC director general Mark Thompson has confirmed that the BBC will fund the rollout of its national digital multiplex to 97% of the population but Tabor said the issue of local and regional DAB coverage was unresolved.
Senior executives at News International were warned by a company lawyer in June 2008 that there was "a culture of illegal information access" at the group involving "at least three" of its journalists, reports the Guardian. It says the warning is contained in a legal opinion prepared by Michael Silverleaf QC, the group's counsel, for the News of the World's legal officer, Tom Crone, on 3 June 2008. It has been made public by the Commons culture, media and sport committee on its website.
Today is the 75th anniversary of the opening of the world's first continuous television service on 2 November, 1936, reports BBC News. The BBC and Alexandra Palace in north London are to celebrate the anniversary with a free exhibition this weekend.
In Paid Content, Mark Mulligan says Pete Townshend's claim that iTunes is a "digital vampire" made for nice headlines, but was "misplaced and poorly informed criticism".