Sir Jimmy Young enters Radio Hall of Fame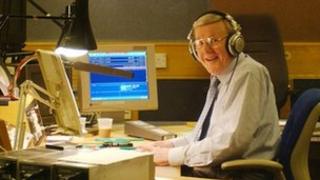 Veteran broadcaster Sir Jimmy Young, who hosted a daily show on BBC Radio 2 for 35 years, has been inducted into the Radio Academy's Radio Hall of Fame.
The 90-year-old was one of four radio figures honoured by the industry body.
The other inductees were Jane Garvey, who presents BBC Radio 4's Woman's Hour, BBC 5 live drivetime host Peter Allen and Smooth Radio's Andy Peebles.
Radio Academy chief executive John Myers said they had all been "hugely influential in the industry".
Sir Jimmy, who turned 90 in September, missed the ceremony in Manchester on Tuesday, instead sending an audio message saying he was "nursing a 90-year-old very painful hip".
The message continued: "At my first audition, way back in 1949, I was told I had no future in broadcasting. So you can imagine that makes the honour of being inducted into the Radio Academy's Hall of Fame even sweeter."
Sir Jimmy had a successful music career before becoming a broadcaster. In 1955, he became the first British singer to have two consecutive number one singles.
He went on to join the BBC as one of the original Radio 1 DJs in 1967 before moving to Radio 2 in 1973.
He occupied the early afternoon slot, interviewing every serving British prime minister during his time on air, as well as many other leading world figures.
Previous Hall of Fame inductees include Tony Blackburn, Billy Cotton, Richard Dimbleby, Alan Freeman and The Goons.
Accepting her award, Jane Garvey recalled that it was a novelty for a woman to present a radio breakfast show in the late 1980s, as she did on BBC Hereford and Worcester.
She said she felt it would still be unusual for woman to have such a role today, adding: "Many of us feel like that ought to change."
She also hailed the work of the recently-launched Sound Women, a body that aims to raise the profile of female radio broadcasters and celebrate their achievements.
Rolling Stones and Faces guitarist Ronnie Wood was given a lifetime achievement honour by music royalty organisation PPL, while producer and songwriter Pete Waterman received the John Peel Award for Outstanding Contribution to Music Radio.
Pop star Katy Perry was named the most-played artist on UK radio in the last 12 months.