Pete Townshend calls Apple a 'digital vampire'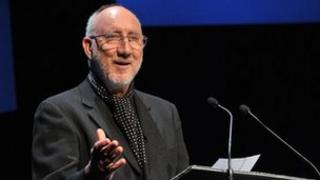 This round-up of Tuesday's main media stories reports on Pete Townshend's criticism of Apple's iTunes.
The Who guitarist Pete Townshend has urged Apple's iTunes to use its power to help new bands instead of "bleeding" artists like a "digital vampire", reports BBC News. Townshend made the comments last night in BBC 6 Music's inaugural John Peel Lecture, named in honour of the legendary DJ, at the Radio Festival in Salford.
The BBC local radio cuts - which will account for 280 jobs at 40 stations across England - will be at the top of the agenda when director general Mark Thompson addresses the Radio Festival on Tuesday morning, reports the Guardian. It says BBC Radio Manchester will have a particular interest, as one of the big city stations having to make cuts of about 20%.
America's Public Broadcasting Service is launching a dedicated TV channel in Britain on Tuesday, its first major foray abroad since it was founded more than four decades ago, reports the Wall Street Journal. The channel, called PBS UK, will air on Britain's two biggest pay-TV platforms, British Sky Broadcasting and Virgin Media, which together reach about 14 million UK households.
The Daily Mail says the BBC has received hundreds of complaints over footballer Robbie Savage's 'inappropriate' moves on Saturday's Strictly Come Dancing. It says he did a series of hip thrusts during his routine "before leaping on to the judges' desk and performing the risque moves in front of Craig Revel Horwood". The Mail says the BBC confirmed it had received 267 complaints but defended the moves, saying Savage was simply paying tribute to the dancing of Michael Jackson.
The Guardian reports that John Witherow, editor of the Sunday Times, has defended hiring the former News of the World undercover reporter, Mazher Mahmood, saying the journalist was "checked out very carefully" before he joined the paper in September: "Witherow told a joint Commons and Lords select committee on privacy and injunctions that he received separate reassurances that Mahmood - nicknamed the 'fake sheikh' - was not involved in phone hacking at the News of the World."
The BBC licence fee may be extended to viewing via video on-demand and catch-up TV services such as BBC iPlayer, as part of a review by the government, reports Digital Spy. Current rules say a TV licence is required to watch television content "as it is being broadcast", whether on the TV set, online or via mobile platforms. But it says there is a grey area around whether people need a licence to access catch-up services such as BBC iPlayer. A BBC spokesman said: "We believe the current system works very efficiently and do not see a need to change its scope at present."
The Church of England leadership is in crisis amid confusion over its response to the anti-capitalist camp outside St Paul's cathedral, several newspapers say, as reported in the BBC's newspapers review.