Tintin movie tops UK box office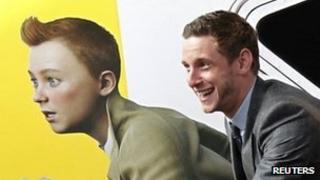 The Adventures of Tintin: The Secret of the Unicorn has topped the UK and Ireland box office, debuting at number one with takings of £6.7 million.
The film, directed by Steven Spielberg, stars a motion-captured Jamie Bell as the young roving reporter.
Other new entries this week included Bollywood blockbuster Ra.One, at six, followed by US drama The Help.
Ryan Gosling and George Clooney's political thriller The Ides of March opened at number eight.
Ra.One stars Shah Rukh Khan and is thought to be the most expensive Bollywood production to date.
The movie took £908,768 in its opening weekend. Despite opening in just 94 cinemas, it made £9,668 per screen - putting it second only to Tintin in terms of bums on seats.
Spielberg 's latest outing opened in 512 cinemas and took an average £13,201 per site. Paranormal Activity 3, which dropped into second place from last week's number one, took £4,443 at each of the 415 screens it showed at.
Spy spoof Johnny English Reborn climbed two positions this week to claim the number three position, while thriller Contagion was in fourth place, followed by Walt Disney's 3D version of The Lion King.
The top 10 was rounded off by robot boxing film Real Steel, starring Hugh Jackman, at number nine and true story Dolphin Tale one place below.