Second Expendables stuntman in 'stable condition'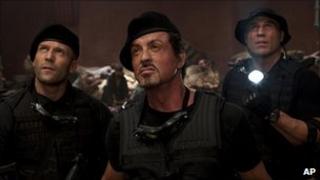 A stuntman seriously injured on the set of Expendables 2 is now in a stable condition, after a colleague died as a result of the same accident.
Nuo Sun, who was hurt while filming a stunt sequence in Lake Ognyanova, Bulgaria last week, has been taken to Germany for further treatment.
Fellow stuntman, Kun Lieu, was killed in the incident.
"Our deepest condolences go to the family of Kun Lieu," film company Nu Image told the Hollywood Reporter.
"His passing is tragic," the statement continued.
The accident happened during filming of an explosion on an inflatable boat on the Ognyanovo dam, 15 miles outside the capital Sofia.
It said that Nuo Sun's condition had "stabilised" and he was now receiving "top medical care from the best specialists" in Munich.
Nu Image denied reports in the Bulgarian press that the stunt doubles for stars Sylvester Stallone and Jet Li had been involved in the accident.
Nuo Sun and Kun Lieu were working in the second stunt unit.
"At the time of the accident, neither Li's or Stallone's stuntmen were on or near the second unit set, nor were any of the film's main actors, director Simon West or any of the main unit crew," Nu Image told the Hollywood Reporter.
"Only second unit filming has been temporarily suspended and will resume shortly. The filmmakers continue to work with authorities investigating this accident. Main unit production has not been interrupted and continues as scheduled."
The Expendables 2 features a star-studded action hero cast that, alongside Stallone and Jet Li, includes Arnold Schwarzenegger, Bruce Willis, Dolph Lundgren, Chuck Norris and Jean-Claude Van Damme.