Hilary Swank 'sacks manager' after Chechen appearance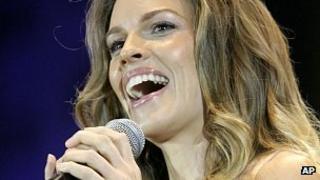 Actress Hilary Swank has sacked her manager after appearing at a birthday event for Chechen leader Ramzan Kadyrov earlier this month, reports say.
The Oscar winner fired her manager of eight years, Jason Weinberg, and her management team, Deadline said.
It comes after human rights groups criticised the star for being paid to attend the event.
Swank later apologised, saying she was unaware Kadyrov has been accused of abusing his opponents.
The actress, 37, also promised to distribute her reported six-figure attendance fee to "various charitable organisations".
In addition to axing Weinberg - who also manages Madonna and Demi Moore - Swank has also severed ties with her talent managers Amie Yavor and Josh Lieberman at Creative Artists Agency (CAA) who reportedly made the Chechen booking.
Swank's representatives were contacted for further comment but have yet to reply.
Action star Jean-Claude Van Damme, violinist Vanessa Mae and singer Seal also attended the celebrations, which was to mark the leader's 35th birthday on 5 October.
Celebrities have been criticised for attending the event, with Human Rights Watch saying: "Ramzan Kadyrov is linked to a litany of horrific human rights abuses. It's inappropriate for stars to get paid to party with him.
"It bolsters his image and legitimises a brutal leader and his regime," they added.
After footage of Swank at the event appeared online - in which she appeared on stage giving birthday wishes to Kadyrov - the actress issued an apology saying: "I deeply regret attending".
Human Rights Watch urged all the celebrities to return any money or gifts they received.
So far none of the others have apologised or offered to return their fees.
Seal hit back at critics on Twitter writing: "I played music for the Chechen people. I'm a musician and would appreciate if you leave me out of your politics.
"You sit there under the umbrella of democracy and never once stop to think how it keeps you dry."