Ratings victory for Strictly over X Factor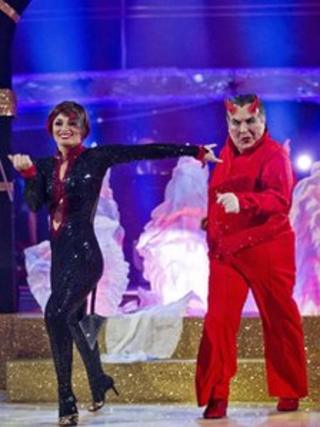 This round-up of Monday's main media news reports on a ratings victory for Strictly Come Dancing over X Factor.
The Sun reports X Factor was "clobbered" in Saturday night's ratings. It claims ITV bosses begged Simon Cowell to return to save the show. It goes on to say BBC One's Strictly Come Dancing won more viewers than X Factor for the first time in four years.
The Daily Mail adds that the fall in ratings was "despite a week of well-publicised rows between the singing show's judges - which saw one temporarily replaced by a former winner about to launch a new single".
Could Richard Desmond's papers rejoin the Press Complaints Commission? The owner of the Daily Express and Daily Star tells Dan Sabbagh in the Guardian he'd be happy to give evidence to the Leveson Inquiry if asked. But he doesn't want to sit on the PCC with the Daily Mail's Paul Dacre. Sabbagh says Desmond's anger "eventually abates and he does say 'I don't think we'll kill each other' and indicates ending his PCC exile might be possible."
Tributes were paid over the weekend to DJ, TV presenter and charity fundraiser Sir Jimmy Savile, who has died aged 84, reports BBC News. Sir Jimmy, one of the most famous names on British TV and radio in the 1960s, 70s and 80s, died on Saturday.
Steve Hewlett in the Guardian analyses last week's "landmark agreement" between the BBC and S4C. He says "for the first time the BBC has put in place arrangements (albeit under the ultimate authority of the Trust) for the devolved strategic and financial management of significant licence fee funds in a devolved nation of the UK - entirely outside the BBC's existing management structure and beyond its control."
Monday finds a Halloween thread running through the papers, as reported in the BBC's newspaper review. The Guardian and Independent carry images of St Paul's Cathedral's Dean standing beside a protester wearing pinstripes and a Satanic-looking mask. The eviction of Nancy Del'Ollio - in spider's web dress - from Strictly Come Dancing provides the main image for the Daily Mail and Daily Telegraph.