Puss in Boots tops US film chart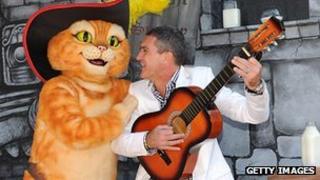 Shrek spin-off film Puss in Boots has topped the North American box office chart, early figures have revealed.
The 3D movie, featuring the popular sword-fighting feline voiced by Antonio Banderas, took $34m (£21.2m) in its opening weekend.
The story tells of Puss's adventures with sidekicks Humpty Dumpty and Kitty Softpaws before meeting Shrek.
Low-budget horror film Paranormal Activity 3 was nudged into second place with $18.5m (£11.6m).
Puss in Boots scored highly with family audiences and also drew a large Hispanic crowd, which made up 35% of its audience, research revealed.
The film also features the voices of Salma Hayek, Billy Bob Thornton and The Hangover star Zach Galifianakis.
Justin Timberlake sci-fi thriller In Time opened at three with $12m (£7.5m).
The movie is set in a future where people stop aging at 25 but are engineered to die one year after, while wealthier citizens are able to buy more time.
The remake of 1984 film Footloose was at four, bringing its three-week total to $38.4m (£24m).
Johnny Depp's latest film, the Hunter S Thompson adaption The Rum Diary, opened in fifth place with $5m (£3.1m) - a relatively low figure for a film starring the actor.