Doris Day wins LA Film Critics prize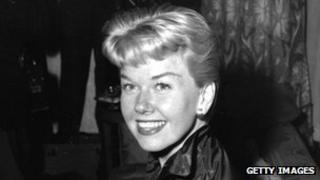 Veteran actress and singer Doris Day has been honoured with a lifetime achievement award by the LA Film Critics Association (LAFCA).
The organisation's president, Brent Simon, described Day as "the biggest female star of the 1960s".
"Doris Day is still arguably the template to which Hollywood turns when trying to quantify and capture 'girl next door' appeal," he added.
LAFCA will vote for the winners of its 2011 awards on 11 December.
Day left the world of showbusiness more than 30 years ago to found the Doris Day Animal Foundation.
But she has continued to be recognised, receiving a Golden Globe for lifetime achievement in 1989 and an honorary Grammy in 2008.
In September, Day became the oldest artist to score a UK top 10 hit with an album featuring new material.
My Heart entered the chart at number nine, 62 years after the 87-year-old's debut album was released in the US.
Day had more than 20 Top 10 hits in the UK and US during her career, including Que Sera, Sera and Secret Love.
She scored her first hit record in 1945 with Sentimental Journey as vocalist for the Les Brown Big Band Orchestra.
Day went on be one of the most popular actresses of the 1950s and 1960s, starring in 39 films opposite the likes of Clark Gable and Rock Hudson.
She also recorded more than 600 songs and fronted two US TV series during her career.