Coldplay album storms to top spot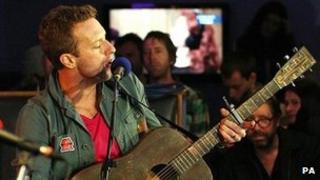 Coldplay have gone straight to number one in the UK with their fifth studio album Mylo Xyloto, which sold 208,000 copies in its first week.
The album, which was withheld from streaming service Spotify, outsold the rest of the top five put together.
It notched up the second highest first-week sales of the year so far, behind Lady Gaga's Born This Way, which sold 215,000 copies in May.
Meanwhile, Professor Green's Read All About It is the new number one single.
The rapper's hit, which features singer Emile Sande, sold 153,000 copies in its first week - just 1,000 short of this year's highest one-week total, notched up by boy band One Direction with their debut What Makes You Beautiful.
Labrinth's Earthquake featuring Tinie Tempah sold 115,000 copies to enter this week's rundown at number two, according to the Official Charts Company.