Sugarland play for Indiana State Fair victims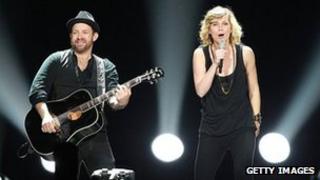 Country music duo Sugarland have played a free concert in Indianapolis, two months after seven fans died when a festival stage collapsed in the city.
In August, high winds blew the stage over as the crowd waited to watch the group at the Indiana State Fair.
On Friday, they performed at the Conesco Fieldhouse venue, five miles from the site of the accident.
The crowd included some of those who were injured. Singer Jennifer Nettles said she wanted to "celebrate healing".
"It was an emotional show, as well as a celebratory show, celebrating life, and music, and healing," the band wrote on their website.
They thanked fans for "singing and dancing and raising your voices to the heavens", adding: "We know that they were heard."
Crowd members were asked to donate to a victim relief fund, which already has raised almost $1m (£620,000).
More than 50 people have filed claims alerting the state to possible lawsuits for a share of a $5m (£3.1m) state compensation pool.