Steve Martin to publish book of tweets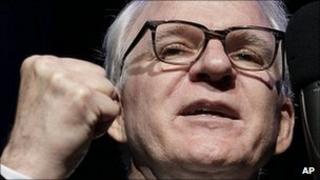 Tweets posted on Twitter by US comedian Steve Martin are to be released in a book, he has announced.
"Due to absolutely no demand, soon I'm publishing a book of my tweets," he wrote on his Twitter account.
"Many of your replies included! All my profits to charity."
The book will be released by Grand Central Publishing in June 2012 with the title: "The Ten, Make that Nine, Habits of Very Organized People. Make that Ten."
Asked on Twitter why anyone would buy the book when they could just read through his old tweets, he replied: "Because I'll edit out all the garbage."
Martin's recent tweets include, "love to shake hands with the paparazzi when I have a bad cold", "have just been diagnosed with a borderline personality" and "I thought I should tell you that I am now awake - this is for real fans only".
Earlier this year, Martin told chat show host David Letterman: "I come on your show and there's 5 million people watching, I know that at least 3 million have absolutely no interest in what I'm doing.
"But I can be on Twitter, I have about 800,000 followers, and I can actually talk to them directly."
Martin, 66, the star of films including Roxanne, and Planes, Trains and Automobiles, joined Twitter in September 2010 and now has more than 1.7 million followers.