English National Ballet to take up Tate residency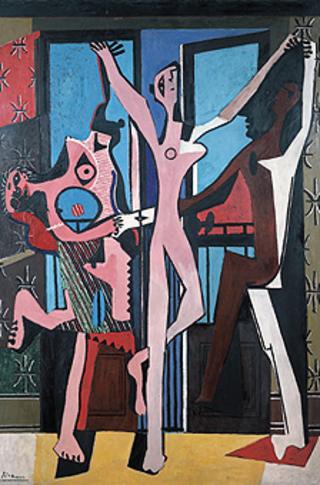 The English National Ballet is to take up residency at Tate Britain next February, to mark the opening of a new Picasso exhibition.
Inspired by the artist's costume and set design work with the Ballets Russes in 1919, the collaboration will see dancers take classes in the gallery.
They will also rehearse and perform three new works inspired by the Picasso and Modern British Art exhibition.
The show looks at how the artist was received in Britain and his influence.
The residency celebrates the legacy of the Ballets Russes alongside the company's own Beyond Ballets Russes season, which will be performed at the London Coliseum next spring.
Picasso worked closely with the Ballets Russes from 1916 and designed several ballets including Parade and Pulcinella.
He frequently sketched the dancers in rehearsal and off stage and even married one of the dancers, Olga Khokhlova.
The English National Ballet's programme will feature the full company of 67 dancers taking their morning ballet class along a barre stretching the length of the North Duveen Gallery.
There will also be workshops and demonstrations highlighting the links between dance and the visual arts.
It will climax with the premiere of the three new ballets at Late at Tate on 2 March.
Picasso and Modern British Art is the first exhibition to explore the artist's lifelong connections with Britain.
It will examine his impact on British modernism, through seven artists he inspired including Duncan Grant, Henry Moore, Francis Bacon and David Hockney.
More than 150 works from major public and private collections will be on show, including more than 60 paintings by Picasso.
The exhibition will run at Tate Britain from 15 February - 15 July, while the English National Ballet will take up residency from 27 February - 4 March.