Ethan Coen writes stage comedies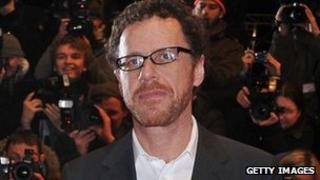 Ethan Coen, one of the Oscar-winning film-making Coen brothers, has written a series of one-act comedy plays that will be staged in New York next month.
The three short pieces go under the name Happy Hour and will be produced by the Atlantic Theater Company.
With his brother Joel, Coen has written and directed films including No Country for Old Men, True Grit and Fargo.
Happy Hour, which runs for six weeks from 16 November, will be his third set of one-act plays to be staged.
The theatre company said the subjects of Happy Hour's plays were an embittered barfly, a lonely man and woman, and a business traveller whose motel room is so ugly that he "wants to end it all".
It will be hosted at the Signature Theatre Company's Peter Norton Space.
Coen also recently teamed up with Woody Allen and Elaine May for a show comprising three one-act comedies, which is currently running at the Brooks Atkinson Theatre.