BBC extends deal to broadcast Wimbledon until at least 2017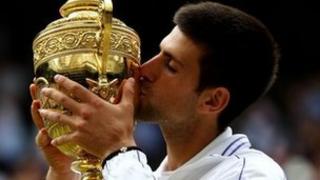 This round-up of Thursday's main media stories reports on a new deal to keep Wimbledon on the BBC until 2017.
Wimbledon will continue to be broadcast on the BBC until at least 2017 after the corporation's contract was extended by three years, reports the Daily Telegraph. It says the BBC came in for fierce criticism earlier this year for agreeing a new deal to share Formula One coverage with Sky Sports: "The BBC made no secret of the fact that that deal was struck to save money on the remaining two seasons of its £40 million-per-year contract."
There are mixed fortunes in the latest radio audience figures, with no one story dominating the coverage. The Guardian reports that Radio 1 has grown to its biggest audience for more than a decade despite the station's breakfast presenter Chris Moyles falling further behind his BBC Radio 2 rival, Chris Evans. It also says BBC Radio 3 lost more listeners than any other BBC national station, even though it normally enjoys a summer surge on the back of the Proms.
BBC News adds BBC Radio 4 has seen its audience dwindle by 300,000 listeners from its record weekly audience of 10.8 million in the previous quarter. But the network's audience is up 200,000 year-on-year.
Digital listening now accounts for nearly 30% of all radio consumption, reports the advertising website The Drum. Ford Ennals, chief executive of Digital Radio UK, says the figures are "more evidence of the irresistible momentum behind digital listening. DAB hours are up 20% and online hours are up 32% year on year, and these are the two strategic growth platforms for the future of digital radio in the UK."
The Top Gear presenter and newspaper columnist Jeremy Clarkson yesterday lifted an injunction he had taken out to prevent his ex-wife writing about his personal life, reports the Independent. He told the paper that injunctions "don't work, they're completely pointless and unbelievably expensive".
The Guardian says the BBC is facing a growing political backlash to its proposed cuts to local radio after MPs lined up at a Westminster debate to criticise the changes as unfair, unjustified and a "travesty" for listeners. About 50 MPs took part in a private members' debate on Wednesday brought by Conservative MP Robin Walker.
The BBC Trust has launched a review into the impartiality of its coverage of the Arab Spring uprisings, reports Press Gazette. The review, led by former UN director of communications Edward Mortimer, will look at the BBC's coverage beginning with events in Tunisia in December 2010 through to Egypt, Libya, Bahrain, Syria and Yemen. It will look at output on BBC national TV and radio, online and BBC World News.
The late-night agreement reached in eurozone debt crisis talks came too late for the early editions of Thursday's papers, which speculate about the outcome, as reported in the BBC's newspaper review.