'New' Velazquez portrait unveiled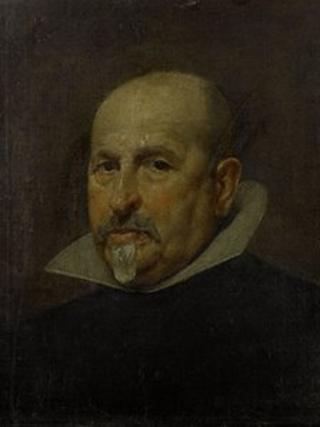 A previously unknown portrait by Spanish artist Diego Rodriguez de Silva y Velazquez has been unveiled in London.
Portrait of a gentleman, bust-length, in a black tunic and white collar, was previously owned by 19th Century British artist Matthew Shepperson.
It was discovered after a number of artworks by Shepperson were consigned for sale last year.
Further examination and an x-ray confirmed the work to be Velazquez.
The painting first came to attention when the current owner - a descendant of Shepperson - brought the works to Bonhams auction house in Oxford. In-house experts noticed the stylistic similarities to works by the Spanish master Velazquez.
It led to extensive research which was confirmed by Dr Peter Cherry - professor of art history at the University of Dublin and one of the world's foremost authorities on Velazquez - and by technical analysis.
"The brushwork is very cleverly done and has the full range of experience you'd expect from Velazquez from this period," Dr Cherry told the BBC.
The identity of the sitter is unknown but it is thought that it could be Juan Mateos, Philip IV's Master of the Hunt.
The painting is expected to fetch up to £3 million when it is sold at auction in December.
"This is an extraordinarily beautiful portrait which, after extensive research, we believe to be by the hand of Velazquez," said Bonhams's Andrew Mckenzie.
"We expect there to be great interest from around the globe as works by this master so rarely come to auction."
Georgina Adam, editor-at-large of The Art Newspaper, told the BBC's Arts Correspondent Rebecca Jones that the newly discovered painting was very significant.
"It adds to our known number of pictures by Velazquez. There are 98 known of which only four of them are in private hands," Ms Adams said.
"It's also not in the catalogue raisonne, which is the authoritative list of all the artist's work, but that's presumably because the author just didn't know about this one - it's come out of nowhere."