London 2012: Young film-makers win Olympic screenings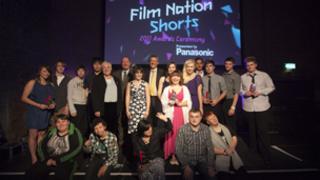 Young film-makers from across the UK have won the chance for their work to be shown at London 2012 venues.
Their short films will also be shown on big screens at live sites in UK cities as part of the Cultural Olympiad.
A competition launched in June 2010 invited 14-25 year-olds to send in short films - from animated films and dramas to documentaries - celebrating Olympic and Paralympic values.
The winners were announced at an awards ceremony in East London on Tuesday.
Ruth Mackenzie, the Cultural Olympiad's director, said: "Shorts is a programme which will deliver a powerful message about our intentions to put young people and their creative power into the heart of the 2012 Games."
The winners were:
Best Animation (14-16 year olds): The People's Big Book of Inspiration (Alex Walker, Emily Bough, Faye Addy, Briony Sayers, Erin Josh, Sarah Blithe, Dough White, Alex Christie, Charlotte Beswick, from York)
Best Animation (17-19 year olds): Determination (Ella Townsend and Jamie Gascoigne, from Nottingham)
Best Animation (20-25 year olds): Be The Best (Will Marsh, from West Bromwich)
Best Documentary or Experimental (14 - 16 year olds): Mind or Matter? (Conner Weir, Kris Hewitt, Eddie Quin, Philip Chong, Christopher Mckernon, Richard Cordner and Jordan Page, from Northern Ireland)
Best Documentary or Experimental (17 - 19 year olds): Wheelchair Basketball (Samuel Charlery, Damien Allie and Lauren Palmer, from London)
Best Documentary or Experimental (20 - 25 year olds): The Great Wight Attack (Stephen Salesse and Jonathan Lovell-Knight, from the Isle of Wight)
Best Fiction (14 - 16 year olds): Liar (Kyle Yallop and Jake Cook, from Lincolnshire)
Best Fiction (17 - 19 year olds): Respect (James Watson, Ian Burrows, Calum Hemphill, Jamie Budge, Emily Prentice and Luke Holland, from County Durham)
Best Fiction (20 - 25 year olds): BOB APPLE (Jacques Colgate, Luke Huntley, Katie Lee, Lisa Pickard, Helen Pocock, Matthew Purnell, Leslie Saunders and Emma Stoke, from Cardiff)
Panasonic Best of Film of the Month: Tea Sports (Anna Kommers, Elis Matthewson, Lowri Faber, Keira Rhodes and Tom Reeves, from South Wales)
Best Truce Film: Safe Passage (Shadi Al-Begain, Luke Andrews, Annalee Pardoe, Jospeh Poppie, Dominic Green, Jessica Simmonds, Max Watkins and George Godden, from Port Talbot)
The London 2012 Cultural Olympiad is a four-year celebration of Olympic and Paralympic culture, aimed at inspiring creativity, especially among young people.
It will culminate in the London 2012 Festival, a series of nation-wide events from 21 June incorporating dance, music, theatre, the visual arts, fashion, film and digital innovation.