George Michael pulls out of Royal Albert Hall show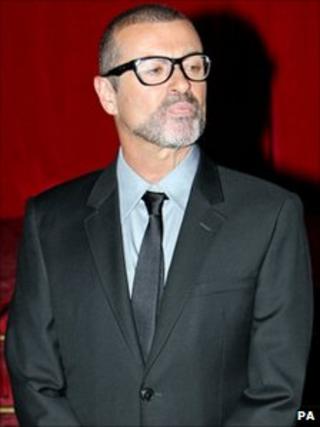 George Michael has pulled out of a show at Royal Albert Hall in London, following advice from doctors.
The 48-year-old singer is understood to be suffering from a viral infection.
A venue spokesman told the BBC that ticketholders should keep their tickets, as it is hoped the gig will be rescheduled for a later date.
A statement said Michael was visited by a doctor on Wednesday afternoon and "confirmed he is suffering from a viral infection and has a high temperature".
Michael kicked off the UK leg of his Symphonica tour on Tuesday, backed by a 41-piece orchestra.
In the audience were contestants from The X Factor and former Spice Girl Geri Halliwell.
A spokesman for George Michael said that "he is disappointed that he cannot perform tonight's concert, but he has been advised to rest.
"He received a tremendous reaction from the audience last night and is very sorry that he has had to postpone".
During shows, he has performed cover versions including Love is a Losing Game by Amy Winehouse alongside his own hits such as Praying for Time and Wham's I'm Your Man.
Gig promoters Seetickets announced the cancellation on Twitter and said: "We'll keep you posted on rescheduled date".
Michael started the 47-date tour in Prague in August.
The tour is due to move to mainland Europe before returning to the UK in late November for gigs in cities including Cardiff, Liverpool and Glasgow.