BBC Radio 4 audience falls from record listenership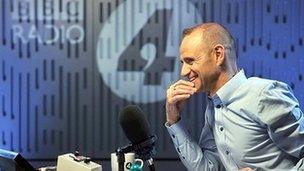 BBC Radio 4 has seen its audience fall by 300,000 listeners in the last three months, according to new figures released by Rajar.
The station's record weekly audience of 10.8 million from the previous quarter has since fallen back to 10.5 million.
Its flagship news programme Today also saw listenership slip from 7.1 to 6.7 million. Overall, though, the network's audience is up 200,000 year-on-year.
Chris Evans' Radio 2 breakfast show audience rose from 8.6 to 8.8 million.
The presenter's Radio 1 counterpart, Chris Moyles, saw his listenership fall from 7.4 to 7.1 million people during the last three months.
This time last year, he was attracting 7.1 million listeners to his weekday early morning show.
But Radio 1 as a whole drew in more than 11.8 million listeners per week, a new benchmark for the station since current audience measuring methods were introduced in 1999.
The network's acting controller Ben Cooper said he was "thrilled" with the station's reach over the summer months.
"Whether it was standing in a muddy field in wellies, or being in a club in Ibiza, this summer was all about us getting out and about reflecting the best live and new music from UK festivals and abroad," he added.
Classical station Radio 3 maintained a listenership of above two million in the new figures.
BBC 5 live slipped slightly, losing 58,000 listeners over the last 12 months to achieve a weekly audience of 6.2 million.
5 live sports extra reached a record weekly average of 1.15 million listeners, every week during the summer, boosted by its Test Match Special coverage of England against India.
Classic FM saw its audience fall from 5.7 to 5.3 million in the past three months, while Smooth UK continued to add listeners, with its most recent audience standing at 3.3 million people.
Rajar also reported that digital radio in the UK accounted for more than 300 million listening hours in the last three months.
Overall, listening via a digital receiver accounted for 28.2% of all radio consumption.
Compared with this time last year, listening via mobile phones had also risen by almost 25%.
Tim Davie, the BBC's director of audio and music said there was a "clear transition" of radio listeners to digital.
Related Internet Links
The BBC is not responsible for the content of external sites.