BBC strike could hit Strictly Come Dancing final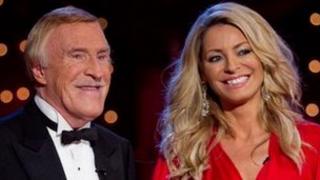 This round-up reports on a strike ballot at the BBC over its plans to cut 2,000 jobs.
Strike action over planned cuts at the BBC could interrupt the Strictly Come Dancing final as well as the Sports Personality of the Year awards, suggests the Guardian. It says staff are being balloted over the proposals unveiled earlier in October by the corporation to lose 2,000 jobs, change staff redundancy rights and freezing payments for unpredictable working.
If the ballot of members of the three main unions - Bectu, the NUJ and Unite - return a yes vote, then a strike could take place as soon as the beginning of December.
The BBC and the S4C have reached an agreement over the future and funding of the Welsh-language broadcaster until 2017, reports BBC News.
According to WalesOnline.co.uk, "Madoc Roberts of the Bectu union fears that funding cuts may spell the 'end of S4C'. He said: 'They are heading for a long, slow death... I think what's happened is we have been sold out by the people doing the negotiations, both by S4C and the BBC.'"
The Daily Mirror says Downton Abbey bosses had to defend the show after the plots were labelled "bonkers", becoming "Crossroads with posh frocks".
It says "another pundit condemned the speed which the ITV series has developed, saying that the 'supersonic pace' had left viewers confused. But executive producer Gareth Neame says the criticism is unjustified because an average of 11.5 million people now tune in on Sundays, comp­­ared to 9.4 million for the first series."
According to Ofcom research, teenagers may be watching more televison than before but care more about their mobile phones and the web, reports the Daily Telegraph.
The eurozone debt crisis, and the fate of the Italian government, is the lead story in most of Wednesday's papers, as reported in the BBC's papers review.