Steven Tyler accident delays Aerosmith gig in Paraguay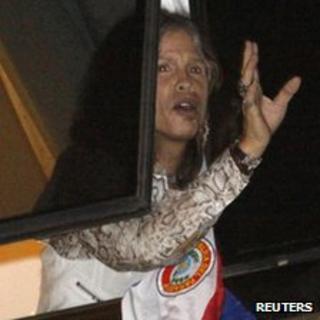 Rock band Aerosmith have had to delay a concert in South America after singer Steven Tyler had a "small accident".
Tyler reportedly suffered cuts to his face and lost two of his teeth after falling in his hotel bathroom ahead of a concert in Asuncion, Paraguay.
He was said to have received stitches and had emergency dental work, forcing the gig to be postponed by 24 hours.
In 2009 the singer fell off stage during a concert, leading to the cancellation of his band's summer tour.
According to local concert organisers, Tyler was "fine" after his "minor" accident and was recovering at his hotel.
More than 50,000 people are expected to attend Wednesday's rescheduled concert, the second date in Aerosmith's current tour.
When the tour was announced in May, Tyler said he was "looking forward to sweating up a storm with the crazy Latin American fans".
The Aerosmith front man was seen on US television earlier this year as a judge on American Idol.