Matthew Bourne to reinterpret Sleeping Beauty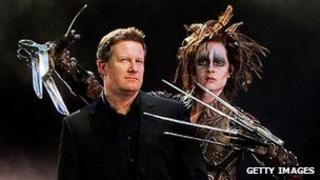 Choreographer Matthew Bourne is to create a new version of ballet Sleeping Beauty with "vampiric influences", it has been announced.
The work will be premiered next Christmas as part of a season at Sadler's Wells marking 25 years of Bourne's company, New Adventures.
His earlier works, including Nutcracker and Play Without Words, will also be showcased at the London venue in 2012.
Bourne is perhaps best known for staging Swan Lake with a male ensemble.
His re-telling of Tchaikovksy's Sleeping Beauty will begin in 1890, echoing the year of the Russian ballet's original performance in St Petersburg.
It was an era when "fairies, vampires and decadent opulence fed the gothic imagination", according to the 51-year-old choreographer.
Its heroine Aurora then grows up into "the more rigid" Edwardian era.
She wakes up in the modern age, which Bourne calls "a world more mysterious and wonderful than any fairy story".
'Suitable celebration'
The new production will complete Bourne's reworking of all three Tchaikovsky ballets.
Sadler's Wells retrospective of his work will begin this Christmas with a seven-week run of Nutcracker!, which originally premiered in 1992.
The London performances will be followed by a nationwide tour of the ballet.
The summer of 2012 will see performances of early Bourne works including Town and Country, Spitfire - first staged in 1988 - and The Infernal Galop.
Alistair Spalding, artistic director of Sadler's Wells, said of Bourne that "no other artist in dance has succeeded in bringing so many new audiences to the form".
Acknowledging his status as an associate artist at the dance theatre, Mr Spalding added: "The beauty of the relationship is a shared vision for dance, in bringing the best quality performance to the widest range of people.
"Next year will be a suitable celebration of this."
Also announced as part of Sadler's Wells' 2012 season was a modern day version of Nijinsky's L'apres-midi d'un faune.
It will be re-interpreted by Mark Baldwin, who is marking 10 years at the helm the Rambert Dance Company, to celebrate the 100th anniversary of the ballet.