Ides of March: How George Clooney found his political thriller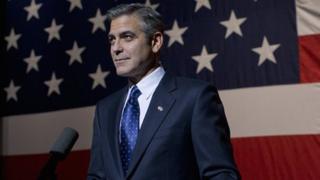 Three years after it premiered in New York, a play titled Farragut North was transformed into George Clooney's political thriller The Ides of March. Playwright Beau Willimon explains how it happened.
The origins of The Ides of March go back to 2004 - when Beau Willimon started work on a play that drew on his experiences of working behind the scenes on a presidential campaign.
The script ended up in George Clooney's hands before Farragut North had even made it to the stage.
"For a couple of years no-one wanted to do the play anywhere," recalls Willimon. "I just think it wasn't the right moment, people were fatigued from the '04 campaign.
"Then my agent decided to give the play another shot and sent it out to Hollywood. In 2006 I got a call saying that George Clooney wanted to make it into a movie.
"After a lot of jumping up and down and squealing like a little girl, I came to my senses and realised - wow! - this might really be happening."
Sex scandal
In The Ides of March, Clooney plays Governor Mike Morris, a US presidential hopeful who becomes embroiled in a scandal. The film stars Ryan Gosling and Philip Seymour Hoffman as Morris's campaign manager.
The film is directed and co-written by Clooney, with Willimon also adapting his own play.
Before starting his writing career, Willimon served on a number of political campaigns, including Hillary Clinton's 2000 Senate race and Howard Dean's 2004 presidential race.
The Brooklyn-based writer started work on Farragut North shortly after the Dean campaign, but stresses that the characters are fictional creations.
"At the time I wasn't looking at that campaign as material for something I would write about. I was just in it working hard for a candidate I believed it.
"But there's an adrenalin factor, a 25-hours-a-day, eight-days-a-week mentality. People will start dating, cheat on each other and break up all in the course of three days and it feels like it's three years. Everything is amped up and accelerated and it makes for great storytelling."
Farragut North (the name of a Washington DC Metro station) premiered in New York City in 2008, then moved to Los Angeles in 2009.
Apart from new title The Ides of March, the main change in translating the play from stage to screen was bringing Governor Morris into the story as a speaking character.
Willimon says: "You just hear the characters talking about him in the play, but in the movie we were able to put him on screen - and when that candidate is played by George Clooney, it adds a lot.
"On the big screen, with a lot more characters, we're really able to give the feeling and texture and pace of a campaign in ways that you can never do on stage."
Clooney had planned to shoot The Ides of March in 2008, but the production was put on hold following the election of President Obama.
As Clooney puts it: "People were too optimistic for such a cynical film!"
So what's changed? Willimon reels off a list that includes economic meltdown, the eurozone and conflict in the Middle East.
"It's a pendulum swing," he says. "We go totally optimistic and idealistic one moment and then we find ourselves pessimistic and cynical. I actually think this film isn't on either end of the spectrum, it's more in the middle."
But does he think the film will appeal to a UK audience not steeped in the ways of US politics?
"I've worked in a lot of US primaries and I still don't completely understand them," Willimon admits. "This is not a movie that's about politics, believe it or not, it's a movie that's set in a political world.
"It's about universal themes: hubris, ambition, betrayal, lust, desire. It just happens to have a political backdrop and very high stakes because the stakes are who's going to be the next leader of the free world."
Willimon's current project also sees him tackling the Machiavellian world of politics.
He is currently writing a US version of political thriller House of Cards, which ran on BBC TV in the 1990s with Ian Richardson in the lead role of Francis Urquhart.
The US version, which has been bought up by online distributor Netflix, will star Kevin Spacey, with David Fincher to direct the pilot episode.
"The original BBC version was 12 episodes and we have 13 per season," says Willimon. "So we are going to be able to dig in and make a lot of these characters and deeper and more complex, and steal a lot from the original and introduce a ton of stuff that's brand new."
The Ides of March is out on 28 October.