Paranormal Activity spooks UK box office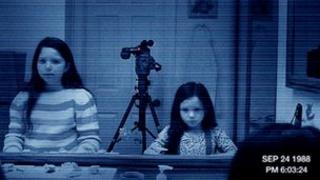 Fright film Paranormal Activity 3 has spooked the UK box office, debuting at number one with takings of £3.4m.
The horror story, which purports to present discovered footage of things going bump in the night, is also at the top of the US film charts.
By pre-empting the Hallowe'en weekend, it sneaks ahead of on several other horror releases.
Due out this week are Demons Never Die, The Silence and a re-release of 1984 comedy classic Ghostbusters.
But they face strong competition from Stephen Spielberg's blockbuster retelling of Tintin, US civil rights drama The Help and Bollywood superhero film Ra.One - all of which get an early release on Wednesday.
Paranormal Activity 3's strong debut knocked spy spoof Johnny English: Reborn down to second place in this week's chart.
It made £2 million over the weekend, putting it comfortably above the star-studded disaster movie Contagion, which was a new entry at number three.
But on a screen-by-screen basis, little separated the two films.
Rowan Atkinson's secret agent took an average of £3,718 on each of the 552 screens it was showing on, while Contagion's receipts were £3,711 on 398 screens.
The only other new entry in this week's chart was literary adaptation We Need To Talk About Kevin, which took £492,297 to land in seventh place.
Meanwhile, The Smurfs is the longest-running hit on the chart, hanging on to 14th place in its 16th week of release, with total box office takings of £16.7 million.