Grayson Perry calls art world 'disengaged'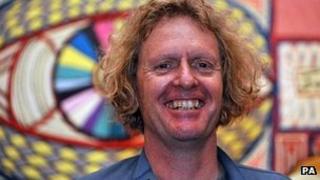 Former Turner prize-winner Grayson Perry has called the art establishment disengaged "with the real world".
The cross-dressing artist, known for his often sexually explicit ceramic work, told the Radio Times: "There is no popular wing to it."
Citing Scottish painter Jack Vettriano and street artist Banksy, he said: "You won't find them hanging in the Tate."
Perry is curating an exhibition, The Tomb of the Unknown Craftsman, at the British Museum until 19 February.
Perry, 51, whose female alter-ego often appears in his work told an audience at the museum that he gets most of his ideas "sitting in front of the telly with a beer, watching X Factor".
He also described Beryl Cook, whose whimsical paintings of buxom figures, as being more popular and recognisable than many of the artists featured in Britain's biggest galleries.
The artist, who has himself been exhibited at the Tate, was also dismissive of the patrons of the art world.
"I have a pot called Boring Cool People," he said. "It's decorated with pictures of the sort of people who go to contemporary art galleries."
"There is no popular wing to [the art world]," he added. "Banksy, Jack Vettriano, Beryl Cook. You won't find them hanging in the Tate. Almost because of the fact they are pop stars."
In 2003, the then-little known Banksy sneaked a painting into Tate Britain and managed to evade guards to hang it on a wall.
The picture consisted of a rural scene with an image of police tape stencilled on to it.
In 2004, Vettriano's best known painting, The Singing Butler, was sold for close to £750,000. He was also awarded an OBE for Services to the Visual Arts.