Spooks bows out with 5.1m viewers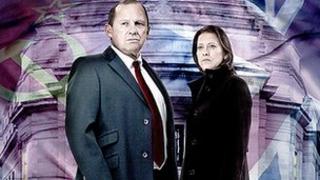 The final episode of BBC One espionage drama Spooks attracted an audience of 5.1 million people, overnight figures have revealed.
But the climax to the 10th series lost out to ITV1 rival Downton Abbey, which was seen by 8.9 million people during the same timeslot.
The spy show has failed to beat the period drama for the six-week Sunday night run.
Its finale centred on the relationship between stalwarts Harry and Ruth.
The central plot of the intelligence unit's final mission, meanwhile, surrounded a Russian villain who was perfecting plans to wreak havoc on London.
Television critics have marked the end of Spooks after 10 years, with Radio Times' Laura Pledger saying the decision to cancel the show was the right one.
But she added that in the last episode, the show still "hadn't lost its power to shock".
Sam Wollaston, writing in The Guardian, cited spy thriller writer John le Carre's condemnation of the show, saying "if Spooks is 'crap' as John le Carre says, then crap doesn't get much better".
Benji Wilson in the Telegraph summed up the series' past 10 years, calling it "television for its time".
"Events of the last decade have reduced the distance between the laughably implausible and the horribly real to a very thin line. Spooks's brilliance has been to tiptoe along that line from start to finish.
"It was first aired six months after 9/11, and ever since then a combination of actual events, political rhetoric and pandemic paranoia has lent it just enough credibility to perturb," added the writer.