World Book Night titles unveiled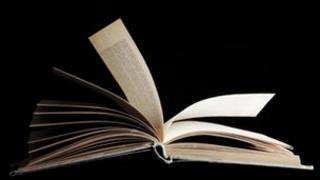 Pride and Prejudice and The Alchemist are among the 25 titles that will be given away on World Book Night in 2012.
One million books will be distributed at venues including hostels, pubs and hospitals in a bid to boost reading.
Now in its second year, the event will move from March to 23 April, marking both Unesco's International Day Of The Book and Shakespeare's birthday.
Some 20,000 members of the public will be chosen to give away copies of their favourite title from the list.
The books chosen this year range from classics like Charles Dickens' A Tale Of Two Cities to Sophie Kinsella's chick-lit hit The Secret Dreamworld of a Shopaholic.
Also included are Bill Bryson's dissection of British life, Notes From A Small Island, and fantasy fiction Good Omens by Terry Pratchett and Neil Gaiman.
"We love books, and think that a night during which people give each other books is the best kind of night there could be," said the authors in a joint statement.
"We wish that there had been nights like World Book Night when we were younger. Unfortunately, there weren't, and we had to make our own entertainment, which is probably why we wrote Good Omens.
"But, hurrah! World Book Night! Give each other books. Especially ours."
Accessible novels
Horror novelist Stephen King also lent his support to the initiative, after Misery, his classic tale of obsession, made the shortlist.
"I'm delighted that one of my books has been selected for World Book Night, and hope it helps to propel a great cause forward," he said.
"Naturally I want more and more people to read, and then to read more and more.
"I also love the idea of a lot more people enjoying Misery (though I don't mean that quite the way it sounds)!"
This year's selection was partly chosen by members of the public, who helped to draw up a list of 100 books over the summer.
Those 100 titles acted as a starting point for the final shortlist, which was decided by a panel of experts chaired by acclaimed novelist Tracy Chevalier, and featuring two members of the public amongst their number.
Civil servant Demelza Burrell was one of them, and said she felt "the 2012 list reflects more what the public actually read than perhaps what the literati think we should read".
Chevalier, whose historical novels include Girl With A Pearl Earring, added that the chosen books were all "accessible" and "entertaining".
"Key to all of them is that they tell cracking stories which make you stay up late reading to find out what happens."
World Book Night, which launched in the UK and Ireland this March, will also take place in the US next year.
The full list of 25 titles, plus details of how to apply to become a volunteer distributor, are available on the World Book Night website.