Music fans worship at church gigs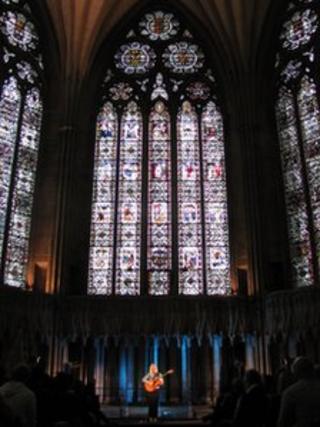 Brit Award-winning singer Laura Marling and the band Elbow are the latest performers to shun the bawdy, beer-stained venues of the conventional gig circuit to perform in sacred surroundings.
Marling is currently on a 16-date tour of English cathedrals, while Elbow are playing a special gig for BBC Radio 2 in Manchester Cathedral on Thursday.
"It's quite intimidating, this room, isn't it?" says Marling, surveying the seven towering stained glass windows, the vividly decorated vaulted ceiling and the gargoyles looking on in expectation of the next song.
The venue is York Minster's hallowed Chapter House, an awe-inspiring edifice that was completed in 1286, which hosted Edward I's Parliament in 1297 and is still used for regular meetings of the College of Canons.
And it is now possibly the world's oldest gig venue, having hosted two performances during Marling's When The Bell Tolls tour, which also takes in venues including Liverpool Anglican Cathedral, Winchester Cathedral and Westminster Central Hall.
The stone faces carved around the edge of the Chapter House are frozen in various states of delight and disgust, but the flesh-and-blood onlookers all revere Marling and her semi-acoustic confessional songs.
With the audience rapt, she sings about "getting down on your knees to pray" during Sophia, her final song.
But this is a song about romantic faithfulness rather than faith, and the imagery is as close as it comes to being religious.
Marling is one of a number of modern musicians who have taken to performing secular music in sacred spaces.
Singer-songwriter Emmy the Great and indie group Bombay Bicycle Club played short church tours this year, while roots duo Show of Hands went on tour dubbed Spires and Beams in 2010.
"A lot of churches have been opening up their doors recently for the arts," says Emma-Lee Moss, who goes by the stage name Emmy the Great.
"They're beautiful places and they've always had music in them. And also, they're losing money. They take a lot of money to maintain so it makes perfect sense."
Moss says a church can make for a more memorable gig setting than your average Academy or Apollo. "You can really get into the mood when you're looking up to the ceiling and it goes on and on and on, and there's an angel at the top," she says.
The Union Chapel in London has been the trailblazer, having hosted the likes of U2, Adele and Noel Gallagher while remaining a functioning place of worship.
Now, churches including St Giles-in-the-Fields and St Leonard's in London and St Philip's in Salford have begun hosting regular secular concerts.
Among cathedrals, Manchester is the most rocking, with five gigs by the likes of Anna Calvi, Wild Beasts and Turin Brakes due to take place in the coming month.
The proceeds go to the cathedral's music education budget, which helps to provide bursaries for choristers from disadvantaged backgrounds.
"In these dire economic times, the additional income that we get makes a big difference and enables us to do our core mission, which is to serve the city and Greater Manchester," says the Very Reverend Rogers Govender, the Dean of Manchester.
"The economic times have affected our income and sources have begun to diminish."
He stresses that the concerts are also motivated by a desire to bring more people into the cathedral.
"It enables us to attract the younger folk to the cathedral who otherwise would very rarely come in," he says.
"So when they come in for a music concert, they suddenly discover this great big gem of a building right in the heart of their city. Very often that prompts a further visit during ordinary time."
He admits that some members of the regular congregation were not happy when the cathedral began hosting secular concerts two years ago.
"Church people tend to be conservative and some of the complaints were legitimate so we've had to look at how we organise these events," he says.
"But by and large people have been supportive and understand the need to open up their space, especially to a younger audience."
There are rules about what bands can say and sing about.
"We make sure, for example, that there's no swearing in the lyrics, that no acts of wickedness and that sort of thing are propagated," he says.
Church gigs suit a certain type of artist, mainly singer-songwriters and the quieter indie bands who are, on the whole, unlikely to be writing hymns to Satan.
Gig promoter Maz Tappuni, who has staged shows in St Stephen & St Thomas, St Giles-in-the-Fields and St Pancras Old Church in London, says: "I think it would be difficult to get a hip-hop or grime artist or a black metal band inside a church."
But for fans of those suitable bands, it offers a special kind of concert experience, he says.
"People want something different nowadays, especially with the recession and economically people not being able to go to as much live music as they might have been able to in the past.
"People come and they're completely blown away. If you just put a standard show on in a standard venue, it's the same old thing, and people are looking for something different."
Tappuni says fans tend to sit quietly and soak up both the music and the atmosphere, although he does admit to having to "get the incense out to get the smell of the beer away" after the crowd have left.
Moss, however, does not believe bands or crowds should be more reverential because they are in a religious environment.
"We've played gigs where people are sat still, quite upright in these pews, and they feel like they need to be reverent," she says. "That never feels good for a band.
"At the Sheffield and Manchester shows it was just a normal crowd and they didn't care that they were sat in a church. Luckily we had some pretty raucous crowds."