Pop impresario Harold Davison dies at the age of 89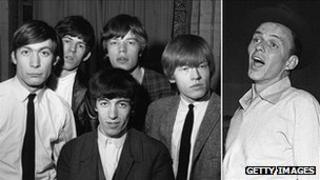 Harold Davison, the music impresario who brought the Rolling Stones to the US, has died aged 89.
Davison, who was born in London, also introduced European concert audiences to US artists such as Frank Sinatra, Ella Fitzgerald and Bing Crosby.
He was married to British singer and television star Marion Ryan until her death in 1999.
Davison's publicist said he died on 11 October of congestive heart failure in Palm Springs, California.
A talent agent, manager, producer and executive, Davison was the first to book Sinatra and Judy Garland concerts in the UK and continental Europe.
During the US invasion of British pop artists in the 1960s, Davison took the Stones and the Dave Clark Five across the Atlantic.
He is survived by three children and several grandchildren.