Shareholders present protest vote against James Murdoch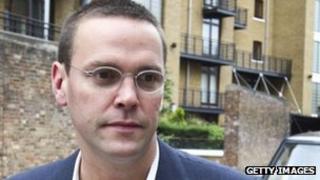 This round-up of Tuesday's main media stories reports on more new developments in the phone-hacking scandal.
The Guardian says James Murdoch's future at News Corporation looks increasingly precarious as shareholders delivered a damning verdict on his tenure amid widespread criticism of his handling of the hacking scandal. Figures published last night show that a majority of independent shareholders voted against the re-election of chairman Rupert Murdoch's sons James and Lachlan Murdoch. James Murdoch faces a second grilling in the Parliament next month over phone-hacking.
The BBC's Robert Peston says the result of the vote is an embarrassment for James Murdoch. "He wants to be seen as a talented business person in his own right, rather than the heir of one of the world's most powerful media tycoons." He goes on to say that Anne Simpson of the huge US pension fund, Calpers, which voted against him, told the BBC the vote was about more than just concerns over what went wrong at the News of the World. "I think this really tells the board that investors are looking for change, they're looking for robust independence," she said.
News International's former executive chairman has rejected suggestions that company executives have been "untruthful" with MPs on phone hacking, reports BBC News. In evidence to the Culture Committee, Les Hinton accepted that previous evidence suggesting the practice was restricted to one reporter had proved inaccurate. But he said a letter - copied to him - alleging it was widespread had not constituted "firm evidence".
The Guardian says ITV is understood to be close to securing a deal to continue broadcasting the FA Cup and England home games until 2014, paying at least 20% less than the £65m a year paid under the existing agreement. The broadcaster's current £275m four-year deal expires at the end of this season. It says the FA effectively lost a major player in the negotiations when the BBC cut its sports rights budget by 15% as part of the Delivering Quality First cost-cutting measures.
After the rebellion by backbench Conservative MPs in the vote on a referendum on Europe, the Daily Mail says the prime minister received a "bloody nose". The Sun says he deserved it - paying a humiliating price for snubbing public calls for a referendum on the EU, as reported in the BBC's newspaper review.