Lord Chief Justice defends a free press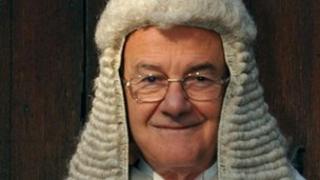 This round up of Monday's main media stories reports on reaction to the Lord Chief Justice's speech in defence of a free press.
The Independent's Stephen Glover believes the likelihood of statutory regulation of newspapers has been reduced "almost to zero" after a "magnificent speech" last week by Lord Judge, the Lord Chief Justice. He urges people to read it. "These were no inconsequential musings from the most senior member of our judiciary. Delivered in clear, beautiful English, what he said amounted to the most powerful and moving defence of a free press that I have heard from a living person, and it is wondrous that such words should have fallen from the lips of a judge."
The Daily Mail said that the Lord Chief Justice, Lord Judge, said an independent Press was "'a constitutional necessity' and he warned that allowing any government regulation of newspapers would be a danger to democracy". It also added Lord Judge was "effectively setting out the judiciary's 'evidence' to the Leveson inquiry into Press standards, set up in the wake of the News of the World phone-hacking scandal".
Peter Preston says in the Observer boundaries were crossed last week as grim images of Gaddafi's death flooded the media. "Publishing graphic pictures of the dead and dying has become less taboo over the years; but the tone of vengeance Fleet Street adopted for this death was new."
A senior BBC News executive has defended the corporation's use of "undoubtedly shocking and disturbing" video of former Libyan leader Muammar Gaddafi in his dying moments. On the BBC Editors' Blog, Mary Hockaday, head of the BBC multimedia newsroom, said using the images showing a bloodied and beaten Gaddafi moments before his death was editorially justified to convey the scale of Thursday's "dramatic and gruesome" events.
The Daily Telegraph says Rupert Murdoch "threw off his air of contrition at News Corporation's annual general meeting in Los Angeles on Friday as he successfully fought a shareholder revolt over the company's corporate governance". Top institutional investors challenged Mr Murdoch over the phone hacking scandal at the News of the World, and called for his chief executive and chairman roles to be separated. But the paper says they could not dethrone the Murdochs without the consent of the family, which controls nearly 40% of voting rights.
It is David Cameron's "week of hell" according to the Sun as he faces a battle with European Union leaders over the eurozone, and with his own MPs over the Commons referendum vote on Europe. The Guardian says a week of "intense political infighting" lies ahead, as reported in the BBC's newspaper review.