Marat/Sade: Audiences walk out of 'perverse' RSC show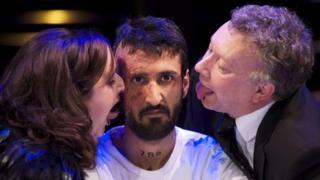 Audiences have been walking out of the Royal Shakespeare Company's production of Marat/Sade, which features scenes of nudity and torture.
At one preview show, 80 theatregoers left the show at the interval.
The RSC says that number was unusually high. According to a spokeswoman, "only four or five" walked out on Sunday.
Marat/Sade is set in a lunatic asylum, where the Marquis de Sade is directing a play about the murder of political thinker Jean Paul Marat.
A review in the Financial Times called it "comprehensively perverse", adding that it constantly challenges "both dramatic conventions and audience composure".
Some of the more shocking scenes include a gang rape and a character being tortured with a Taser.
Audience members interviewed on the RSC's own website described the production as "warped", "disturbing" and "shocking".
Others recommended the play, which is frequently studied as part of the A-Level English syllabus, saying "you have to see it to understand it".
Written by Swedish playwright Peter Weiss, Marat/Sade (or, to give it its full title: The Persecution and Assassination of Marat as Performed by the Inmates of the Asylum of Charenton under the Direction of the Marquis de Sade) was first staged by the newly-formed RSC in 1964, starring Glenda Jackson and Patrick Magee.
Praised for ushering in a new era of radical, avant-garde theatre in the UK, the production later transferred to Broadway and picked up four Tony awards.
The current revival is part of the RSC's 50th anniversary celebrations, and is being staged at the company's newly-refurbished £112m Stratford home.
Directed by Anthony Neilson, it stars Jasper Britton as de Sade and Midsomer Murders' actor Nicholas Day as one of the asylum inmates.
The RSC confirmed to the BBC that there had been walk-outs at every performance, but said figures were averaging around 30 per night - much lower than those quoted in some newspapers.
It added that ticket holders had been contacted in advance of the show with warnings about the explicit content.
'Alive and well'
A letter sent out by the RSC box office said: "Anthony Neilson is taking a fresh look at the play and his production will contain scenes of a sexually explicit nature, some of which involve religious imagery and is not suitable for younger audiences.
"We recommend that the production would not be suitable for audiences under the age of 16."
Jeanie O'Hare, who put together the RSC's 50th anniversary programme, said that director Neilson had "never set out to offend anybody".
"The production looks at where de Sade's philosophy arises in contemporary society.
"His philosophy is alive and well and streaming into our teenagers' phones in the form of pornography. He is the ghost text behind every pornographic film ever made. He is alive and well in our culture."
"We went into this knowing that, if you accidentally flick around the TV channels late at night, we aren't showing anything that isn't commonly available."
Ms O'Hare added that some people had walked out because they felt uncomfortable with the play's political message, rather than scenes of sex and violence.
"Don't forget that de Sade wrote 120 Days of Sodom," she said.
"If you were given a ticket for this play in a lucky dip, you might be shocked but otherwise it is pretty much doing what you expect."