Crime boss Holleeder fails to halt Heineken kidnap film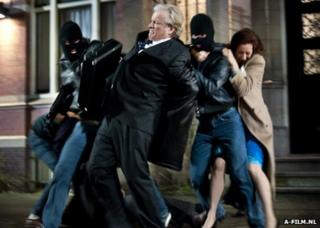 A Dutch court has rejected a gangster's bid to block the release of a film about his infamous 1983 kidnapping of beer tycoon Freddy Heineken.
Willem Holleeder - the "Godfather of Dutch crime" - was sentenced to 11 years in jail for his part in holding Heineken hostage for three weeks.
He was unhappy with the portrayal of his character in the film, which fictionalises the events.
But Judge Wil Tonkens rejected the suit without comment.
She said she would publish her reasoning on 28 October, reported the Associated Press news agency.
The Heineken Kidnapping will now be released as scheduled in the Netherlands next week.
'Image threat'
The film is a fictional account of one of the most notorious episodes in Dutch crime history - when Holleeder and three others snatched Heineken and his chauffeur off the street in Amsterdam in broad daylight in November 1983.
They were held hostage for three weeks, and only released when the Heineken family paid a reported ransom of 35m guilders (25m euros or £22m in today's terms).
All four gang members were eventually caught, and Holleeder sentenced to 11 years in jail.
Now 53, and serving a nine-year term in a high-security prison on unrelated extortion charges, Holleeder had argued the film would damage his image by making him appear more sadistic than he really is.
But defence lawyers argued the film was a fictional account of real events, and that Holleeder had little reputation left to lose.
Lawyers for the film company IDTV celebrated the verdict, saying it should not be necessary to ask criminals' permission to create works based on their lives.
Holleeder has congratulated the film company on their victory, reports the BBC's Anna Holligan in the Netherlands.