Robbie Williams to release solo album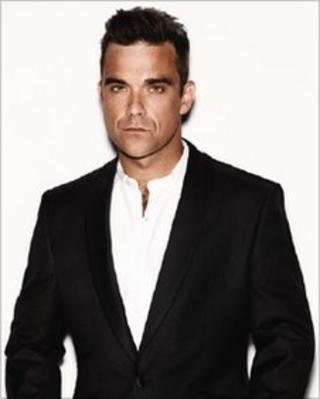 Pop star Robbie Williams is to release a solo album in 2012, following his successful reunion with Take That over the last 12 months.
The new record will be released by Universal Music, marking the end of the singer's relationship with EMI.
Williams famously signed an £80m deal with the record label in 2002, after scoring hits with Angels and Rock DJ.
No figure has been announced for his new deal, which puts him under the same umbrella as Take That's label, Polydor.
"I'm really thrilled to be joining the Universal family at what I think is the most exciting time in my career," said Williams, 37.
The new album will be Williams' first studio release since 2009's Reality Killed The Radio Star.
That was followed in 2010 by a greatest hits compilation, In And Out Of Consciousness, trailed by the single Shame - his first collaboration with Gary Barlow in 15 years.
Having patched up his relationship with the Take That songwriter, he rejoined the band last year for an album - Progress - and a 29-date stadium tour, the largest ever in the UK and Ireland.
'Creatively inspired'
During his solo career, Williams has sold 60 million albums and picked up 16 Brit awards. Amongst his best known songs are Let Me Entertain You, No Regrets and Feel.
Many of his biggest hits were written in conjunction with Guy Chambers, but the pair fell out after Williams signed his record-breaking deal in 2002.
No details about the new solo album have been discussed, but Universal Music chairman David Joseph said: "Having had the chance to listen to the music I've no doubt that Robbie is currently at his most creatively inspired.
"We are about to witness something very special."