Tweeting The X Factor and Strictly Come Dancing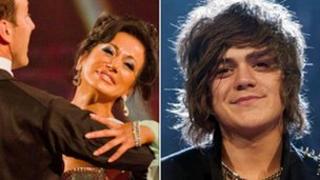 More than three-quarters of UK viewers now use other media while watching TV, a new survey suggests. We look at how X Factor and Strictly Come Dancing have become mainstays of tweeting and online commentary.
"Tulisa's dressed as a Mingle," said an X Factor viewer of the show's judge on Sunday night. "Barlow's gonna eat her."
Later in the show, her husband passed comment on ousted contestant Sami Brookes' sing-off performance of Aretha Franklin's (You Make Me Feel Like) A Natural Woman.
"Sami thinks she nailed that. I think she nailed it too. To a… cross."
Saturday and Sunday night TV staples have provoked such debate in living rooms across the UK for decades.
But the couple in question - Times TV critic and columnist Caitlin Moran and her music critic husband Pete Paphides - tweeted their comments on their laptops while sitting next to each other.
"Some people have said, 'oh it's really sad that you would tweet in the same room as your husband'," says Moran.
"But personally, I think a very sexy form of modern love play is to sit next to your husband and write something on the internet that you then see him shaking with laughter at 30 seconds after you posted it."
She says viewing X Factor without Twitter would be like going to watch a football match in an empty stadium.
"And you go there for the atmosphere. And the atmosphere is on Twitter."
According to a YouGov report commissioned by social media agency Diffusion, more and more TV viewers are multi-tasking.
The Social TV Trends Report, which questioned 2,025 internet users aged 18 and over, suggested that 76% of viewers used the internet, a games console or listened to the radio while watching television - up from 58% in last year's survey.
And it suggested 43% of British adults commented on or discussed TV shows they were watching using Twitter, Facebook, other websites and mobile phones.
That figure rose to 68% for 18 to 24-year-olds while a quarter of over-55s were doing the same.
Measuring which TV programmes attract the most comments is a more complicated affair.
According to Twitter analysis carried out by Diffusion for the BBC News website, X Factor is the programme shown in the UK that attracted the most tweets written in English over a period of 30 days, followed by Glee and Strictly Come Dancing/Dancing With the Stars.
But the analysis could not take into account the country in which comments were posted, meaning that tweets recorded as X Factor tweets, for example, could have been written about the US version of the show.
One Facebook user, who did not wish to be named, said Strictly was her "reason for living at the weekend".
So far this series, the 35-year-old fashion buyer's comments have included that Holly Valance and her dance partner Artem Chigvintsev seem "v distant" and that "the celebs really are rubbish… save Jason Donovan - he's ace".
The mother of one adds: "It's like having a conversation in the pub but, as I can't go out because I have a baby, it's the next best thing."
The Sun's TV critic and self-confessed technophobe Ally Ross, meanwhile, says social networking is "pointless, meaningless, humourless and I don't wanna know".
And as a critic, tweeting about programmes would be "robbing Peter to pay Paul" and "a waste of good lines", he adds.
Despite the popularity of PVR boxes and on-demand viewing, past predictions about the death of "linear" TV watching have proved wide of the mark.
While some think this is partly down to social networking, Ross says the live nature of X Factor and Strictly Come Dancing makes it "imperative" to watch them as they happen.
On changes to Saturday and Sunday night TV watching habits, he says: "It's never going to be the way it was with 28 million watching but still, for something like the X Factor, the final will get 18 million."
He adds: "It's probably as much that families don't really exist in the way they used to."
Caitlin Moran, meanwhile, says her family still enjoy the age-old Saturday and Sunday night tradition of gathering around the TV, "but we're tweeting at the same time".
"As we evolve, we have gained the ability to both live tweet amusing comments to our peers and friends and still engage our children in a conversation about how we think Frankie Cocozza's hair is stupid," she adds.