Queen Victoria portrait to go up for auction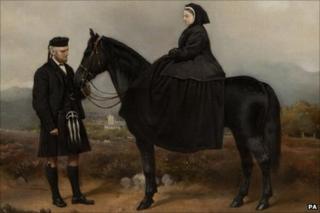 An oil painting of Queen Victoria and her servant John Brown, by one of her favourite artists, could fetch up to £30,000 at auction on 1 November.
The work by Charles Burton Barber, a gift from the Queen to Mr Brown, shows them on his birthday in 1876.
It is among 500 royal artefacts from Old Battersea House - home of publishing family Forbes - to be auctioned at Lyon and Turnbull.
The 17th Century London home was restored by the family in 1970.
Guests of the family at the house included Ronald Reagan and Dame Elizabeth Taylor.
Barber's painting is among lots from the house, including letters, furniture and art work, which are collectively valued between £1.5m and £2m.
When Barber died, the Queen was said to have sent a wreath with the message: "A mark of admiration and regard from Victoria RI."
The items were on public display at Old Battersea House last weekend and will be exhibited at Lyon and Turnbull from Friday 28 October until the morning of the sale.
The Fine Art Society director and Forbes family art adviser Simon Edsor said the Queen's belongings had long been "the crowning glory for Victoriana collectors".
Forbes magazine was founded in New York in 1917 by Aberdeenshire-born financial journalist BC Forbes.