Stone Roses sell out reunion gigs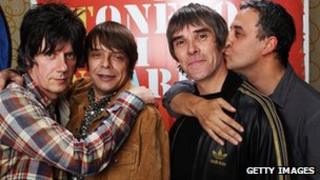 The Stone Roses have sold out three nights at Manchester's Heaton Park after announcing their reunion earlier this week.
The first two shows sold out in just 14 minutes, with a third date added shortly afterwards.
In total, fans snapped up 220,000 tickets, priced at £55, within 68 minutes of booking lines opening.
"We plan on spending the rest of the day jumping up and down with our hands in the air," said frontman Ian Brown.
The classic line-up of the band announced they were reforming on Tuesday, 16 years after they last appeared on stage together.
They are best known for hits like I Wanna Be Adored and Fools Gold, and their iconic, self-titled, debut album.
After their three-night residency in Manchester - from 29 June to 1 July, 2012 - the band are expected to embark on a world tour.
No further dates have been announced, but The Sun newspaper reports that they have been signed up to play Scotland's T In The Park Festival next summer.
The Manchester quartet recorded just two albums before the group dissolved amidst legal wranglings and personal disagreements.
In particular, singer Ian Brown and guitarist John Squire fell out after the latter's decision to quit the band over the phone in January 1996. They traded insults in the press for many years, and regularly scoffed at rumours of a reunion.
According to the band, relationships thawed earlier this year when they attended the funeral of bass player Gary Mounfield's mother.
Announcing their comeback at a press conference, Brown said: "Something magical happens when us four are in the room together, you can't put your finger on it."
The musicians, now aged between 47 and 48, also revealed their intention to record new material.
"We are going to do what we did the first time and ride it 'til the wheels come off," said Brown.