Turner Prize 2011: Great art or rubbish?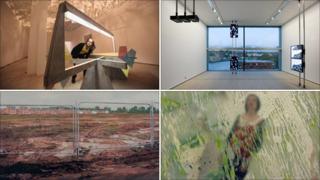 Works by the four artists who are nominated for the Turner Prize 2011 have gone on display at the Baltic art gallery in Gateshead ahead of the prize-giving ceremony in December.
We asked visitors to the exhibition which artist's work they liked the best.
Lucinda Bredin, arts editor of The Week magazine and editor of Bonhams magazine
For me there are two standouts - George Shaw and Karla Black. Their work couldn't be more different. George Shaw's very masculine, in a way. He's using that most masculine of mediums, Humbrol enamel paint. And he's looking at memory and his childhood.
Karla Black's work is very feminine, very theatrical, very all-embracing. I find her work extraordinarily emotional and emotive and touching. Were I to choose, I think I will go for Karla Black.
Jaque Irvine, 67, retired, from Washington
If I had to choose one, it would be the one who did the pictures [George Shaw], but I don't particularly like his subject. I can go out any time and see derelict buildings and I don't particularly want to look at a mound of rubbish.
I like anything that I can look at and understand. The exhibition with the paper [Karla Black], I just didn't find that artistic at all.
Vickie Bennett, 23, art student from Scarborough
I thought George Shaw's paintings are absolutely excellent. It's the way he paints such typical landscapes in a really modern way, and the scenes that you see [in his paintings] you can see everywhere, all over England. I was really impressed by them. It was quite gritty and real.
Mick Henry, leader of Gateshead Council
There are two that I like for different reasons. George Shaw reminds me of my childhood and I can identify where I've come from and to some extent where Gateshead has come from. I was born on a council estate and it reflects that council estate.
But then there's a great one by Martin Boyce, a modernist, almost romantic garden in Paris, so I can't decide. If I had to pick one, I think I would pick Martin Boyce.
Fisun Guner, critic for TheArtsDesk.com
Particularly strong is Martin Boyce. His room really does stand out. You walk in and see so many different influences, you see so many different references. There's a lot going on and it gives you a lot of food for thought.
But my personal favourite is George Shaw. I've still got a soft spot for Shaw. He's been around for a long time and it would be great if he got even more recognition.
Lance Germaney, 50, groundsman, from Grimsby
I liked the two men [George Shaw and Martin Boyce] because I think you can use them, can't you? You could paintings up in your house and the other guy you could get something to put in your house or in your garden. They're more practical I think.
The one with the films [Hilary Lloyd] made me a bit dizzy, and the other one [Karla Black], I just wanted to go straight by. Not for me.
Isabella Bunnell, 19, art student from Speyside, Scotland
I'd have to say Karla Black's piece is my favourite. It's beautiful the way it's so tactile and you just want to snuggle up inside it. It's a really nice atmosphere in that room, it's so playful, it's lovely. She uses such soft, almost feminine pastel colours.
Robbie Maughan, 38, unemployed, from Whitley Bay
I've seen George Shaw's work before - I think that's quite strong. He's quite honest and true and going back to his roots using Humbrol paint. The other three are quite hard to work out.