Academy calls for release of Iranian film-makers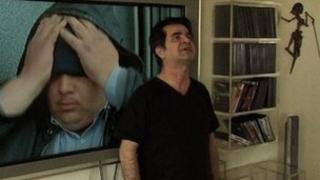 The Academy of Motion Picture Arts and Sciences has led Hollywood industry organisations in calling for the release of jailed Iranian film-makers.
Six independent documentary makers whose films have appeared on BBC Persian TV were arrested in September.
Actress Marzieh Vafamehr has been imprisoned and sentenced to 60 lashes for being in a film critical of Iran.
The groups have also condemned the continued house arrest of Jafar Panahi for making a film about Iranian unrest.
BBC Persian TV, which can be accessed through satellite TV, is aimed at Farsi speakers, mainly in Iran, Afghanistan and Tajikistan.
Broadcasts from BBC Persian TV have been jammed in Iran amid criticisms of the BBC by the country's government.
Hadi Afarideh, Shahnam Bazdar, Mojtaba Mirtahmasb, Naser Saffarian, Katayoun Shahabi and Mohsen Shahrnazdar were arrested last month for providing the BBC with material deemed damaging to Iran.
Saffarian and Shahrnazdar have since been released.
In a statement, the Academy said that, before the release of these two, all six had been denied access to their lawyers and families "who were forced to remain silent".
"These film-makers - and others - are artists, not political combatants," it went on.
"We join our colleagues around the world in calling unequivocally for these film-makers' safety, release and return to film-making."
It said they deserved the same "full freedom of expression" as any other film-maker, "no matter where they are from, no matter where they work, no matter what their beliefs".
Social commentary
Last week Panahi, a vocal critic of Iran's strict Islamic law and government system, lost an appeal against a six-year prison sentence.
He was convicted in December for trying to make a documentary about unrest following the bitterly disputed 2009 re-election of President Mahmoud Ahmadinejad and has since been under house arrest.
Panahi, whose films are known for their social commentary, was also banned from making films for 20 years as well as from leaving Iran.
The director, whose film Offisde won the Silver Bear award at the 2006 Berlin Film Festival, has made a documentary which shows him under house arrest in his apartment in Tehran.
This Is Not A Film, which was smuggled out of Iran, was co-directed by Mojtaba Mirtahmasb - one of the six arrested in September.
The documentary, which was shown at Cannes this year, has just been screened at the London Film Festival.
Actress Marzieh Vafamehr, meanwhile, was sentenced earlier this month for criticising conditions in her country.
She appeared in 2009 Australian movie My Tehran for Sale, a film that is banned in Iran that tells of an actress whose stage work is banned.
The Directors Guild of America, one of the co-signatories of the joint statement, said creative freedom was "an essential building block of liberty, culture, civil and human rights".
"We hope the Iranian government will release these film-makers and recognise that their creative works can only strengthen and enrich Iranian society," it added.
The Screen Actors Guild urged Iran "to refrain from stifling the artistic expression of its citizens and to let their unique and valuable voices be heard once again".
The Producers Guild of America, the Writers Guilds of America and the International Documentary Association are also among the bodies calling for an end to the film-makers' detention.