Tintin enters the third dimension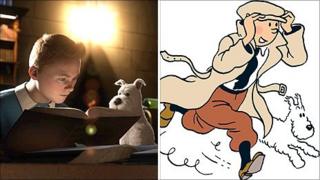 More than 80 years since Tintin first appeared in print in Belgium, the roving boy reporter has been transformed for the big screen by Steven Spielberg.
Creator and illustrator Herge's pen lines have been brought to life by 3D and performance capture techniques, in an animated movie that takes the comic book hero firmly off the page.
The young adventurer's famous quiff is lustrous and red and his face full of expression, as up-to-the-minute technology brings him alive and makes him eerily human.
But will traditional fans accept this new guise?
Actor Jamie Bell, who provides the voice and human movement for the Belgian icon, is adamant that Tintin "deserves" such treatment and calls Spielberg "the only guy who could have made this movie".
"In the comic books he's not a living, breathing person. In the film, every strand of his quiff moves," explains the British star, who has given Tintin a standard English accent and says an American twang would have been "criminal".
"I've never seen such a realistic Tintin in my life. In the comics the characters don't look like people - they're surrealist drawings," he adds.
The 25-year-old says that the film - which is produced by Peter Jackson - can be "paused at any moment and put back into a comic".
The Billy Elliot star reveals that while performing the actors, including Andy Serkis and Daniel Craig, had frames from the original cartoons pasted around their studio "so we could look directly at the source".
Bell believes that Tintin's transformation will draw in a fresh wave of fans - on their own terms.
"To try and bring Tintin to a new generation of children, you have to present it to them in a way they understand. Steven Spielberg they understand; they understand 3D.
"I hope they see this film and decide to go back to the source material," says the actor, adding that "this movie will hopefully branch out from Tintin's exclusive fanbase".
Bell also maintains that he will return for further Tintin movies, should they be made, so long as the character is "represented in the right way".
Michael Farr is a leading light on Tintin who knew Herge and has written extensively on the subject.
"Herge was terribly interested in new technology and a film buff. I think he would have been very excited by the new film.
"When I was writing his biography I found among his papers a note he had written three months before he died [in 1983] which said if there's one person who can bring Tintin successfully to the screen, it's this young American director - and he meant Steven Spielberg," Mr Farr explains.
As for fans with an expert knowledge, who are also known as Tintinologists, he thinks there will be a "mixed" reaction to the new movie, given the visual familiarity with Herge's enduring image of Tintin.
But he adds: "Nobody has said to me it is a disastrous development. Not one fan I have met has said they would rather it hadn't been done. It's an endorsement of their enthusiasm."
'Tintin for morons'
Mr Farr also believes that the film will draw new converts to the original Tintin comic books, which he calls a "running success story".
His note of caution concerns the US, which has maintained its own cartoon-strip superhero tradition.
"American audiences may find the film a bit difficult. Some have known him and loved him, like Spielberg, but not the audience at large."
While US audiences must wait until Christmas to see Tintin, UK critics have delivered early verdicts, including The Guardian's Nicolas Lezard, a lifelong devotee of the comic books.
"As it is, the film has turned a subtle, intricate and beautiful work of art into the typical bombast of the modern blockbuster, Tintin for morons," he writes.
The Telegraph's Robbie Collin also draws comparisons with the original comic books.
"As a family-friendly adventure romp," he says, "it ticks every box, but the unique appeal of the Tintin books does not lie in seeing boxes being ticked."
Empire magazine's Ian Nathan, meanwhile, says: "No room is found for Herge's political satire, or his more becalmed, intuitive moments, to gaze, incredulous, at the world."
But the writer adds that it is "an iconography so ingrained in the artist's style that it might be untranslatable".
Spielberg's latest venture would appear to be coming under close scrutiny, as a Belgian institution turns into Hollywood hot property.
Tintin and the Secret of the Unicorn opens in UK cinemas on Wednesday 26 October and is due for release in the US on 21 December.