Talk About Kevin: Portrait of a parent's worst nightmare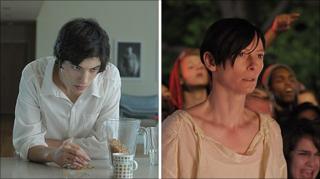 A best-selling novel about a mother's struggle to deal with her teen son's terrible crime is making the leap to the big screen.
Writer Lionel Shriver's We Need To Talk About Kevin focuses on Eva Khatchadourian, a successful career woman who reluctantly decides to have a child.
She has difficulty bonding with her son, who screams as a baby, refuses to speak as a toddler and develops into an impenetrable teenager who creates devastation.
Eva, played by Oscar winner Tilda Swinton in Scottish director Lynne Ramsay's screen adaptation, wonders if her intransigence is to blame for her child's course of action.
The adolescent Kevin is played by 19-year-old actor Ezra Miller, who says that he "started with himself" to pin down the essence of his dark character.
"I knew some aspects of Kevin which are universal. As children we all occasionally get angry because we feel disregarded or trivialised. There was something in that feeling that was already there to explore.
"The really twisted thing is that I didn't have to travel far outside the boundaries of my own psyche," he explains.
Miller says that making the film, which is taut and full of imagery pointing to Kevin's final act, was "not the giggly project" and entailed many intense scenes opposite Swinton.
"Tilda has this military precision in her work. She would very rapidly set tone, approach and angle when it came to working on a scene and I would just struggle to keep up!" he admits.
"She was a great teacher. She taught me that effortlessness can sometimes be the greatest and most productive effort within a performance.
"If you can let go of all the attempts to be within a character, then all your natural capacity will allow you a character in a moment."
Phoning Santa
While Ramsay says "as soon as Ezra walked into the room, I knew I'd found Kevin," she also faced the task of casting two boys to play him at earlier stages of his life.
Both child actors exude Kevin's stubbornness and detachment, performances which she says required some encouragement.
"You don't direct them by giving them a script, you make it fun, and every new day is a game," explains the film-maker. "But they definitely knew about the performance they were giving.
"I had some help from Ezra, who hung out with both the young actors."
She adds that one child was very unhappy about wearing a nappy during filming, so Miller "took him outside and phoned Santa, saving the scene".
Ramsay, whose other credits include Ratcatcher and Morvern Callar, was faced with the task of adapting a novel for the screen which was presented as a series of letters penned by Eva.
"I knew I had to do it my way," she explains.
"The book's in the form of letters and I wasn't going to do it in the form of voiceover. And it would have been a very long film - it's a very, very dense book!
"I think it retains the spirit of the novel. Lionel approved, I think. It's unusual, as novelists don't love their material being filmed."
Ramsay maintains her primary aim was to "put the audience in a position where they could identify with Eva, go on that journey and feel the feelings that she feels".
The result is a very visually detailed film in which Eva is seen scraping red paint off her house at close quarters and facing the pain of confronting Kevin after his deed.
The teenage star of the film, meanwhile, says he is prepared for any film awards season exposure - and success.
"That endless red carpet that runs like a red carpet to my own demise! Ready or not, here it comes," jokes Miller, who was at the Cannes Film Festival earlier this year where the movie was showcased.
"He's got intelligence, a sense of humour - he'll be all right," adds Ramsay.
We Need To Talk About Kevin is released in the UK on Friday, 21 October