The Stone Roses to reunite for tour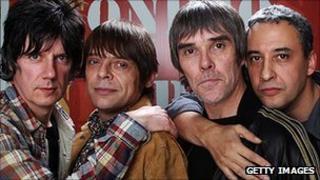 Influential Manchester rock band The Stone Roses have announced the end of a 15-year split for a series of gigs.
The band will play two shows at Heaton Park, Manchester, on 29 and 30 June before an "extensive" world tour.
At a London press conference, singer Ian Brown said his friendship with John Squire had been repaired and the group hoped to release a new record soon.
The Manchester band, which was formed in 1983, recorded just two albums before they dissolved in 1996.
Their 1989 self-titled debut is regarded as a seminal work, combining psychedelic pop and funky basslines.
'Bit like Everest'
The classic line-up of the band were all present for Tuesday's announcement: Brown, Squire, Mani (Gary Mounfield) and Reni (Alan Wren).
The band said the death of Mani's mother earlier this year was the catalyst that brought them back together, even though the bassist had poured scorn on reunion rumours that surfaced shortly after the funeral.
Asked at the press conference how long the reunion would last, Mani said it was a "suck it and see thing", while Reni said he "would be happy with 12 months".
"We will ride it as long as we can," Brown added. However, the band were unable to confirm any festival rumours.
The band confirmed that they have been working together again, and Mani said: "Something magical happens when us four are in the room together, you can't put your finger on it.
"It's just beautiful to capture it again. I've missed it."
The musician added that he had been allowed to leave his current band, Primal Scream, "to follow his dream", while Brown said that his solo career would be put on ice.
Reni - who said he had been busy with fatherhood since the band split up - said it was "a bit like Everest" for men of their age to attempt a comeback.
The band admitted they each had personal reasons for the reunion, while Brown criticised the current music scene, saying it was "boring, bland and corporate with nobody saying anything" and that people "needed uplifting in times like this".
Supposedly named after a novel by Sarah Gainham, the band were at the forefront of the "Madchester" indie scene in the late 1980s and early 1990s, which also spawned the likes of Happy Mondays and The Charlatans.
They scored hits with tracks including Fools Gold, I Wanna Be Adored, She Bangs The Drums and Love Spreads - their biggest single, reaching number two in 1994.
In the year their debut album came out, they topped NME magazine's readers' poll in four categories - best new band, band of the year, album of the year and single of the year, for Fools Gold.
Legal wranglings as they tried to part company with their original record label kept the band occupied until 1991, after which they took another three years to produce the follow-up, Second Coming.
Drummer Reni quit in 1995, followed months later by guitarist Squire.
The band struggled on for another six months with former Simply Red session guitarist Aziz Ibrahim before finally splitting up against a backdrop of internal arguments and legal cases.
Frontman Brown went on to pursue a solo career (and made a brief cameo in Harry Potter and the Prisoner of Azkaban) while bassist Mani joined Primal Scream.
Squire formed his own band The Seahorses and has also forged a career as an artist.
'Golden period'
Drummer Reni was the most enigmatic of the quartet and largely disappeared from the public eye after their dissolution.
In recent years, rumours of a Stone Roses reunion have regularly made the press, only to be quickly scotched by individual members of the band.
Earlier this year, guitarist Squire told NME: "When it's just a get-together for a big payday and everyone gets their old clothes out, that seems tragic to me."
He added that he had not been approached with any concrete financial plans for a Stone Roses reunion.
Tuesday's announcement, supposed to be a surprise, had been heavily trailed by tabloid newspapers.
One person who knew in advance was New Order's Peter Hook, who told BBC 6 Music he had been "tipped off last week".
"Because the band had such a short life, there was always this wish that they would reform - because they burned quite brightly and disappeared," he said.
"I think that they'll make their own magic.
"We're all ready to celebrate the Stone Roses coming back because we all want to celebrate that wonderful, golden period in Manchester history."
Hinting at how the band members had made peace with one another, Hook said: "When you talk face-to-face and you look into someone's eyes, it's definitely a much easier and much stronger way of communicating than doing it through your lawyers.
"You find the thing you loved about each other at the start."