X Factor suffers ratings stumble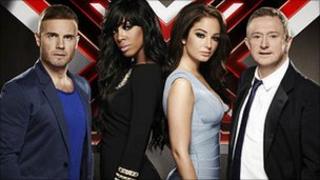 ITV1's X Factor has failed to win the primetime head-to-head battle with BBC One's Strictly Come Dancing on Saturday night for a second week running.
Overnight figures showed 9.9 million viewers were watching the BBC show at 19:45 BST, while 7.5 million saw the start of the singing competition.
Once the overlap ended, X Factor had a peak audience of 11.3 million.
Boy band Nu Vibe were dismissed after this week's show, while Daybreak presenter Dan Lobb left Strictly.
The overnight figures suggest that audiences waited for the end of Strictly Come Dancing before turning over to watch X Factor.
Overall, the ITV1 show had a higher average audience - 10.1 million - than its BBC counterpart, which was seen by an average of 9.1 million people.
From 21:45 - 22:00 just 5.5 million people tuned into ITV1, although some of the fall-off will be accounted for by advertisements and the start of Jonathan Ross's chat show at 21:55.
Average ratings for the programme also fell this week from 10.9 million the week before.
Figures are also down from this time last year, when 12 million tuned in to watch.
Elaine Bedell, ITV's Director of Entertainment and Comedy said: "Over successive weekends The X Factor has been enjoyed by audiences in excess of 13.5 million and continues to be, by far, the most watched entertainment show on UK television.
"Now in its eighth year and with a new panel of judges who have received terrific feedback from viewers, this is already the second most popular series of the show in its history."
Meanwhile, ratings for Strictly have increased week-on-week, with 9.1 million people watching on Saturday - up from 8.7 million the previous week.
However, overall ratings for the show are also down on last year's run, when 9.84 million - 10.12 million tuned in.
A BBC spokesman said the corporation was "delighted" with the viewing figures for Strictly.
"It is great that more and more viewers keep tuning in to enjoy what is turning out to be a fantastic series," he added.