British Library sparks Amazon row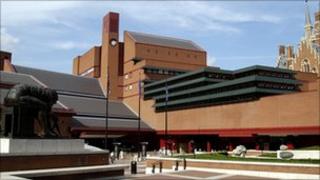 The British Library has been criticised by booksellers for linking to Amazon on its public online catalogue.
The catalogue lists more than 13 million of the library's items along with a link to buy the item from the online retailer.
Waterstones said the library was "driving readers away from local libraries and high street bookshops".
The library said it is trialling the links which are built in to the software used for its search engine.
Waterstones' managing director James Daunt told The Bookseller: "In an environment where high street booksellers and libraries face huge pressures, it is a shame that the British Library choose to give their endorsement to one aggressively commercial organisation."
Johnny de Falbe, co-owner of London's John Sandoe bookshop, added: "If the British Library, of all people, are not supporting British bookshops, and positively steering business away from independents, then why should anyone else have any faith, or interest, in independents?
"They take it for granted that people looking something up on their catalogue will prefer to shop online, at Amazon, rather than go to a bookshop," he said.
A British Library spokesman said the new Integrated Catalogue system was being piloted to provide users "with the choice of an alternative method of obtaining a title if, for some reason, it is not available in the library's Reading Rooms".
He added the library was not making any revenue out of the system, which is still under review.
The criticism comes after figures from the Booksellers Association revealed that more than 800 bookshops have shut in the past five years, including almost 400 independent outlets.
Earlier this month, a number of celebrity writers including Michael Palin urged fans to buy their books from new website Hive, which gives a percentage of each sale to local independent bookshops.
But some independent booksellers have played down the significance of the website - which is run by book distributor Gardners - saying it adds only "pennies" to their sales figures.